Tuesday, November 6, 2012
Light-Sport Chronicles: The Wizards of Alpha
Insider glimpses of Pipistrel's sky-breaking new trainer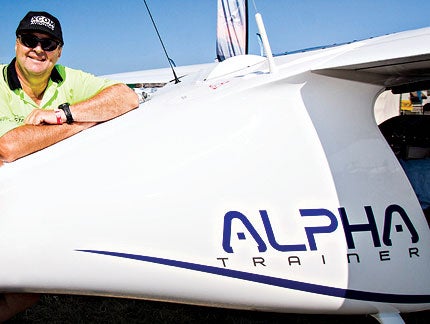 PRESTIGE.
Michael Coaster, distributor for Pipistrel USA, received the Dr. August Raspet Memorial Award honoring Pipistrel's achievements in aircraft design.
LSA Pilot Reports are snapshots. Like a Monet painting, they're intended to bring you a colorful impression of an airplane's chops. I layer in as many broad, quick strokes as I can, and that's about all I have room for.
Nice then, when I can lift the cowl a bit for insights into the pedigree of an LSA such as the Pipistrel Alpha Trainer, my pirep for this issue. The Alpha made quite a splash at Oshkosh, racking up five firm orders by show's end. That would light up any manufacturer, since most vendors hope to close sales in the weeks after the event.
I had the pleasure of an inside-view chat with Michael Coates, Master Distributor for Pipistrel USA, at Oshkosh. He had just received the prestigious Dr. August Raspet Memorial Award honoring Pipistrel's achievements in aircraft design. Here's what he had to say about the Alpha.
"With the current exchange rates," he says in his rich Aussie accent, "we're right around the mid-$80,000s. A lot of our competitors came over to the booth, kicked the tires, checked out our instrumentation and such. Off the record, they told us how well we've done; that the Alpha is a really good value, and they wish us success."
The Alpha grew out of a Pipistrel basic design called the Garud, which is Indian for "Special Forces." It's now finding its way in large quantities to Indian army and air force flight-training fleets.
"The original idea came two years ago," says Coates. "Pipistrel's models had grown more complex, with more instrumentation, and the price had climbed. So we went back to the basics for the U.S. LSA market: How much weight did we need to carry, how much more interior room for bigger American pilots and what was the right instrumentation for the U.S. market? Things like that.
"That's why the Alpha has 220 pounds more takeoff weight than the Indian Garud version. It's roomier and has a stronger undercarriage for the additional weight. And we're really happy with the instrument package, which was specifically developed for this plane."
Page 1 of 3