Tuesday, April 10, 2012
Light-Sport Chronicles: To Dream, To Live
For Jan Hercek, future vision and reality are separated only by time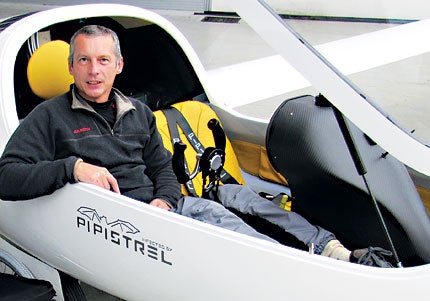 CHASE DREAMS.

In spite of a physical disability, Jan Hercek accomplished his dream of flying his Pipistrel Taurus G2.
Jan Hercek got his flying start the way a lot of us did back then: in an old Rogallo-style hang glider. But his obsession with flight began long before. "I have always dreamed of flying," is how he began his stirring story on a recent visit to the Pipistrel factory in Ajdovšcina, Slovenia. "When I was nine years old, I drew sketches of aircraft and pretend calculations on how to make an aircraft fly."
Next it was models of paper, then wood. Before long, as children do, he played "with everything that looked as if it could fly." But the sky-struck boy wore glasses. He was devastated when adults told him pilots didn't wear glasses in his native Czechoslovakia, then still a highly restrictive Iron Curtain country. "This broke my heart. I wanted to be in the air—somehow, anyhow!" Hercek said.
The dream went underground until after school, when he joined the military to study electronics—and to "get close to aircraft." Stationed in the city of Brno, he enrolled in parachute training and fell in love with the sport...and a woman named Jane. "She didn't intend to jump...she was there to enjoy the company, the people and the training," added Hercek. But when the group went up for the first time, the ground training had removed Jane's fear. She was the first one out of the airplane! The very next jumper was Jan. After only three jumps, the adventure was over. Their airborne chariot, a big, boxy Russian AN 2 biplane, (I flew in one in Cuba years ago), was reassigned.
"In 1984, I started hang-glider training," Hercek continued. "The school had one old Rogallo which flew like a stone. That didn't stop me from having a great time. I was flying! Soon, I bought my own Rogallo with a glide ratio of 8:1—for the time, that was fantastic!" Then, a terrible accident.
"I remember trying to land in a valley. Just before touchdown, one wing caught the lee rotor, and it flipped me over. The hang glider stopped dead and slammed into the ground. The deceleration force spread my vertebrae and tore the nerves and ligaments. I felt no pain at all—but I couldn't feel my legs either," Hercek recalled. His first thought? If he couldn't walk, he would be discharged and could do "all the things I'd always wanted and didn't have time for."
A year in the hospital failed to restore feeling to his legs. Hercek left the army with little money for the future, but a wealth of flying dreams intact. He thought about adding a powered trike unit to the Rogallo. He wouldn't need his legs for that. Jane said, flatly, no: It was either her way or the sky way. "It was a hard decision!" Hercek remembered. "After some thinking, I decided to live the family life and stop flying. It was a good decision. I don't regret it at all."
Page 1 of 2