Tuesday, August 11, 2009
Profiles In Vision: Dan Johnson
Deconstructing the heart and mind of a prime LSA trailblazer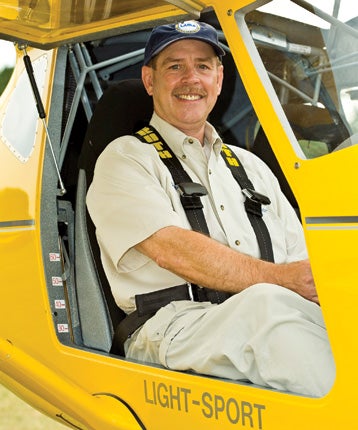 He's the kind of guy you feel chummy with the first time you meet him. Maybe it's the big, energetic smile, the bright welcome in his eyes, or the unpretentious, unabashed enthusiasm he exudes for all things with wings. This is a guy who loves flight and people who fly.
Dan Johnson (
www.bydanjohnson.com
) has had vision all his life. Talking the talk (in that deep, clear radio-announcer voice) and walking the walk for 40 years, he has been a key contributor to the light-sport movement.
Recently, I Skyped the LAMA (Light Aircraft Manufacturers Association) president and asked him to reflect on LSA's imminent five-year anniversary.
"July 20 is when an amazing thing happened," he began. "The light-sport rule was released by the FAA.
"Oh yeah," he continued with a laugh, "There was that moon thing, too." The humor, of course, references the Apollo 11 landing on July 20, 1969.
Our chat lasted two hours: There are no short yacks with this guy. The sizeable, agile Johnson brain is so full of aviation history, experience, insight and savvy that we lesser mortals must merely bow down to receive our alms of wisdom.
We first met in the 1970s, beneath a wild and crazy hillside cable contraption right out of
Zorba the Greek
. He had noodled the idea as a tool for teaching hang gliding. It worked, too!
Dan was already no stranger to aviation. He describes an indelible DC-3 cockpit ride at age nine as "a pure cool thing: I got to experience at a young age what it meant to dance among the clouds."
In 1966, his dad gave him a 10-hour flight course ($150 total, wet, including instructor!). Papa Johnson wanted Junior to fly right in life: What better way than in a plane? The seed sprouted wings, and after 10 hours, Junior went to Papa with hand outstretched.
"'Flying's really cool,' I said. 'How about more money?'
'How about getting a job?' said Dad."
Life: what a concept.
"At college, my nickname became 'the Phantom', remembers Dan. "I went to classes and worked all my spare time to pay for flying lessons."
Page 1 of 2