Tuesday, February 9, 2010
Profiles In Vision: Larry Burke
Engineering whiz, airplane lover, LSA rule maker...founding father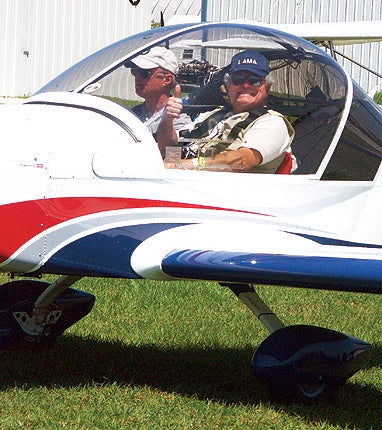 AN LSA PIONEER. Larry Burke, a semi-retired founder of LAMA who still serves as chairman emeritus, helped build the LSA movement.
Ever had a neighbor who watered your roses if you forgot to? Or loaned you his tools, though you didn't know him very well?
Larry Burke is one of those people who looks out for others—lots of them. His gentleness and soft-spoken baritone beguile you, then the eyes, sparkling with keen intelligence, tell you, "Here's one smart cookie!"
I first met Larry one sunny day at Sun 'n Fun years ago. Before long, he was proudly showing me the ultralight he had designed and built himself.
An engineer by instinct and education, he hoped to produce the shoulder-wing single-seater for the exploding ultralight market.
Not long after, ABC broadcast its infamous 20/20 "expose" on ultralights, skillfully manipulating the public's deepest fears about flying. The industry suffered a crippling blow from which it never fully recovered, and Larry never produced his airplane.
Meanwhile, he worked at Lawrence Livermore National Laboratory, a high-octane, super-secret scientific research think tank tasked with national and global security technology. Heady stuff!
We'll never know how the ultralight boom might have evolved without ABC's backstab, but most agree the LSA movement arose from the ashes of those Wild West, free-flying days.
Without Larry Burke, the category itself might never have come to pass. His persistent vision of a thriving sport aviation sector helped bridge the two movements by providing them with standards for safe flight.
Like so many of us, Larry built models as a kid: "In high school, an uncle who owned a slaughterhouse gave me reams of butcher paper to cover my own design: a single-place, wooden airplane. I never got it off the ground, which is why I'm probably still here to talk to you!"
In college, engineering studies kept him too busy to fly. Licensed at last in 1978, it was full throttle to multi-engine and instrument ratings. In college, he helped another student cover an old Aeronca. He attended graduate school courses in aeronautical design and stress analysis.
Page 1 of 3
Labels:
Aircraft Bargains
,
Columns
,
Features
,
Journeys
,
LSAs
,
People and Places
,
Fractional Ownership
,
Ownership
,
Pilot Talk
,
Aircraft Partnership
,
Partnership