Tuesday, February 24, 2009
Profiles In Vision: Tom Peghiny
The #1 LSA distributor in America climbs for the blue on how to survive "The Econogeddon"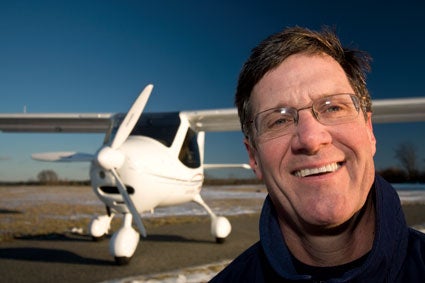 AN LSA Visionary. The president and founder of Flight Design USA has more than 35 years of aviation industry experience.
I like employing people and making things," Tom Peghiny, president and founder of Flight Design USA, told me on a snowy winter day last January.
This month, I wanted to peek behind the big green curtain in LSA's Land of Oz to jaw with a true wizard of the light-sport movement. Peghiny has been a mover in light-sport aviation since he was knee-high to a J-3 Cub. His company, Flight Design USA (
www.flightdesignusa.com
), distributes the top-selling CT line of German-made carbon-fiber LSA. The quality, performance, beauty and aerodynamic sophistication of the aircraft, partnered with Peghiny's 35 years of business savvy, gleaned while pioneering new flight technologies, give hints as to why his company does well even in these tough times.
Time to tap his noodle on what lies ahead for the industry—but first, let's get up to speed on Captain P.
Tom Peghiny is, and no doubt will remain, a birdman. He's much more than that, of course: successful entrepreneur, aviation trailblazer and visionary, test pilot, industry leader. Scratch just below the surface though, and you'll find feathers.
Bursting onto the scene, literally hanging by his armpits from the truss of a "bat-wing" Rogallo hang glider in the early 1970s, he quickly became a top competition pilot in the new sport. In his storied career, 35 firsts included the prestigious Masters of Hang Gliding.
Peghiny helped put Sky Sports, an early hang-glider manufacturer, on the map. His Kestrel was the first true double-surface hang glider. It foreshadowed today's remarkable high-performance flying wings, which make soaring flights of hundreds of miles.
In 1975, when "hang diving" was still working through the "death-wish sport" image it had so deservedly earned through a catastrophic run of pilot fatalities, Peghiny, just 19, made his first powered hang-glider flight.
Six years later, he was the test pilot for early ultralight-aircraft company Pioneer International. As engineering manager, he led the team that developed the Flightstar ultralight, a significant advance in the fledgling sport of ultralight flying.
To this day, Peghiny markets refined and updated versions of the ultralight through his company, Flightstar Sportplanes (
www.flyflightstar.com
).
The main thing to get about this man: Nobody knows more about the winding path of passionate vision, hard work, clear thinking and sacrifice that led from those first exciting, but truly scary, early hang gliders to today's amazing light-sport aircraft.
I'd also argue that Peghiny has a kestrel's eye view of what it's going to take to survive this crunch time and keep growing sport flight.
Page 1 of 3