Tuesday, October 21, 2008
The Master As Student
The more you learn about flying, the more you know there is to learn about flying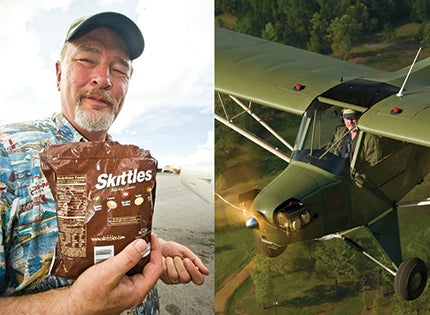 SUGARED UP AND READY TO GO. Bob Elliott considers a full supply of goodies (and antacids for later) as essential components for long flights in his WWII-style Legend Cub.
With his big rawboned hand almost lovingly cradling a gigantic bag of Skittles candies, Bob Elliott might almost—almost—pass for Professor Dumbledore munching on Bertie Bott's Every Flavor Beans. But the baseball cap and screaming-loud, airplane-festooned print shirt puts the kibosh to that comparison in a hurry. His eyes are mere slits from the bright overcast, or insufficient sleep the night before, or more likely, too many Skittles. Tempting me with the open bag, he explains how he got the nickname "A.D.D. Bob" from his flying buddies because he's constantly diving out of formation ("A.D.D."=Aviation Deficit Disorder).
"I find that after flying in loose formation for some period of time, I unexpectedly encounter uncontrolled turbulence, which almost always causes an aileron roll and a dive for the deck," he explains. Once delivered from formation tedium, "A.D.D." is likely to buzz tree tops, chase a canoe down a winding river or engage another pilot in mock combat. What else is a Skittleholic to do when there's all that air to explore?
I met Bob on my trip to Sun 'n Fun 2008 with a gaggle of Legend Cub pilots last spring. [See "With Six, You Get Aileron Roll" from P&P September 2008 at our online home.] Since then, he's come to mind more than once, not only because he's a fun guy to hang out with, but also because he could serve as the poster child for the largest segment of LSA-buying pilots—those flight-medical-challenged, retirement-aged passionate lovers of flight. And, folks, these pilots have a wealth of experience to share with the rest of us.
Bob's story echoes those of many current LSA pilots. A recently retired 30-year airline and charter pilot (24,000 hours), Bob flew his own AT-6 Texan warbird for 20 years. When fuel prices crashed through the $5-per-gallon ceiling, "the T-6 became too expensive to operate—around $200 an hour. That gets to be real money, so I sold it."
After all those years, still crazy about flying and unwilling to experience failing his next medical—or the one after that—he became smitten with the Legend Cub and purchased one. Ever the warbird driver at heart, he painted it up like an L-4 military scout plane from WWII.
"It was a bit hard coming down from the T-6," he asserts. "But I love the Cub, I really do." Enough so that, in less than two years, he's logged nearly 300 hours in the popular LSA. And when he talks about flying, whether it's Cubs or the Big Iron, you sense another under-the-skin kinship with Prof. Dumbledore: Like that fictional father figure, Bob Elliott is a born mentor.
Page 1 of 2