Wednesday, September 9, 2009
Light-Sport Chronicles: Three From The Heart
Of inspiring flights, parachute saves and electric flight from China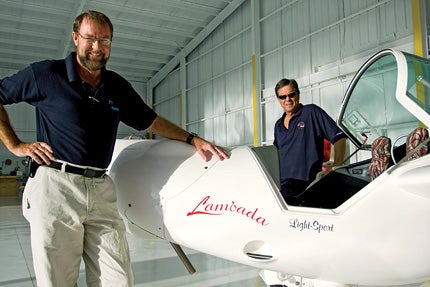 THE UFM-13 LAMBADA. Urban Air USA's Jim Lee (left) and John Dunham (right) distribute this LSA standard with a ballistic parachute.
Weeks into the New England summer season, which, as of July 4, is more like an extended March, I'm feeling a serious need for some LSA speed. People are flying all over America: just not here. Days-long rainstorms, violent winds, midnight thunderstorms—enough already! I've got saddle sores from riding my computer chair.
But enough whining: I hereby invoke the Law of Positive Attraction by putting on my happy flying face. Time to chant "Om mani padme LSA," and here we go.
LSA's Seven-League Boots
From the Wish I'd Done That! Dept., two enterprising pilots came up with a wild and crazy venture to demonstrate the long-reach viability of LSA: They flew from the right coast to the left—in one day!
In June, Jessica Scharle and Matt Hansen flew a lovely Peregrine FA-04 (German-designed, carbon-fiber low-winger) 1,813 nm, setting a transcontinental speed record in the process. Since the National Aeronautic Association doesn't have a category for LSA records yet, the pair applied to Guinness World Records for recognition.
Total time (with five fuel stops) was 19 hours and 21 minutes. Average groundspeed: 110 knots. The purpose of the flight was twofold: demonstrate LSA as a viable way to fly long distances and draw attention to a nonprofit organization that gives free flight training to people with physical disabilities.
Hansen is a CFI at Hansen Air Group (
www.hansenairgroup.com
); Scharle is one of his former students. They flew in support of Able Flight (
www.ableflight.org
), which offers scholarships to people with disabilities who are new to flight, returning pilots, or want to fly but aren't seeking a license.
Scharle, 24, is an Able Flight scholarship winner who was born with a rare condition that fused all her joints. Her accomplishments of a pilot's license and the transcon flight are stirring tributes to courage and perseverance, exactly the traits Able Flight hopes to arouse in physically challenged people. Well done, all!
Page 1 of 3