Thursday, May 1, 2008
Avoiding CFIT Incidents
Maintaining proper altitude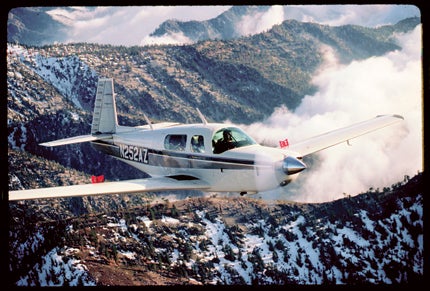 The NTSB began 2008 by issuing a Safety Alert aimed at general aviation (GA) pilots. It deals with accidents involving controlled flight into terrain (CFIT) during nighttime VFR flight. The NTSB noted that some of the CFIT accidents it has investigated in recent years could have been avoided if the pilots had maintained better altitude and geographic position awareness. According to NTSB Chairman Mark V. Rosenker, "Some of the pilots involved in these accidents had many years of experience and were instrument rated, yet for some lapses in basic airmanship, they failed to maintain proper altitude."
In 2003, the FAA determined that CFIT accidents accounted for 17% of all GA fatalities. More than half of the accidents occurred in instrument meteorological conditions. The FAA noted that while small GA aircraft with only a single pilot on board are vulnerable to the same CFIT risks as those facing larger aircraft with multipilot crews, the lone GA pilot must be better prepared to avoid a CFIT accident. In addition to performing all of the flying duties, the lone pilot has to perform all of the preflight planning, route familiarization and en route monitoring. In many cases, an airplane flown by a crew will have more safety equipment, such as a radar altimeter and ground proximity warning system (GPWS), than a single-pilot light GA aircraft.
The NTSB's Safety Alert contains a number of suggestions to help avoid CFIT accidents, none of which is especially earth shattering. The Safety Board says that CFIT accidents are best avoided through proper preflight planning, and that terrain familiarization is critical to safe visual operations at night. You should use sectional charts or other topographic references to ensure that your altitude will safely clear terrain and obstructions along your route.
According to the NTSB, when you're planning a nighttime VFR flight, you should follow IFR practices, such as climbing on a known safe course well above surrounding terrain. Choose a cruising altitude that provides terrain separation similar to IFR flights (2,000 feet AGL in mountainous areas and 1,000 feet AGL in other areas).
When receiving radar services, the Safety Board says you shouldn't depend on controllers to warn you of terrain hazards. Although controllers will try to warn pilots if they notice a hazardous situation, they may not always recognize that a particular VFR aircraft is dangerously close to terrain.
Remember that if a controller issues a heading for you to fly along and "maintain VFR," the heading may not provide adequate terrain clearance. "If you have any doubt about your ability to visually avoid terrain and obstacles, advise ATC immediately and take action to reach a safe altitude if necessary," reads the Safety Alert. "ATC radar software can provide limited prediction and warning of terrain hazards, but the warning system is configured to protect IFR flights and is normally suppressed for VFR aircraft. Controllers can activate the warning system for VFR flights upon pilot request, but it may produce numerous false alarms for aircraft operating below the minimum instrument altitude—especially in en route center airspace.
In what has to be one of the great aviation safety understatements, the NTSB suggests that if you fly at night, especially in remote or unlit areas, you should consider whether a GPS-based terrain awareness unit would improve your flight's safety.
One of the accidents cited in the NTSB's Safety Alert involved a Piper Saratoga PA32R-301T, which was flown into a mountain peak. The accident occurred at around 10:01 p.m., on November 10, 2004, about 17 nm north of Santa Barbara, Calif. The flight originated at 9:37 p.m., from Bakersfield, Calif. The pilot and both passengers were killed. The pilot had logged 322 hours, including 19 in type, and wasn't instrument rated. He was a doctor who was expanding his practice to Bakersfield, and had flown between Santa Barbara and Bakersfield a number of times.
A Los Angeles sectional chart was found in the wreckage. It was marked with a line drawn along the direct route between Bakersfield and Santa Barbara, with an "X" depicted at about the location where the accident occurred. Apparently, the "X" was calling attention to the 6,840-foot-tall mountain peak. The fire-damaged remains of a GPS receiver were found in the wreckage.
After takeoff, the pilot contacted a controller at Bakersfield Departure Control and said, "I seem to be in a little bit of, uh, clouds here." He asked what the ceilings were, and the controller advised, "I don't have any tops, are you IMC?" The pilot denied being in IMC and the controller advised that the minimum IFR altitude about five miles ahead of the pilot was 3,000 feet, and 12 miles ahead it went up to 6,500 feet, and further along it became 10,000 feet. The pilot advised that he was going to climb to 8,500 feet and that it was smooth and clear.
Page 1 of 2
Labels:
Accident Statistics
,
Columns
,
Decision Making
,
Features
,
Flight Hazards
,
Flying Skills
,
Learning Center
,
LSAs
,
NTSB Reports
,
Pilot Skills
,
Safety