Saturday, March 1, 2008
Knowing The NOTAMs
Don't underestimate their importance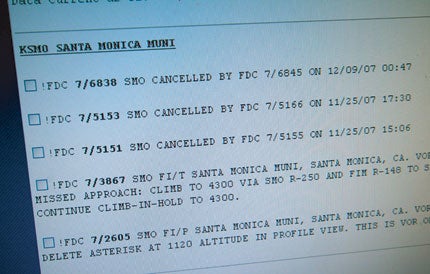 Accident investigators sometimes discover that pilots don't have information contained in NOTAMs relevant to their flights. On rare occasions, even though a pilot asked for NOTAM information in a preflight briefing, the briefer accidentally omitted an item. More often, however, pilots don't bother doing the research.
NOTAMs (Notices to Airmen) are supposed to ensure that a pilot is aware of every bit of new information that could affect a flight. They report runway closures, runway conditions, malfunctioning navigational aids, airport arrival and departure changes, missile launches, outdoor laser light shows, temporary airspace restrictions and myriad other categories of information. The FAA distributes NOTAMs through printed publications issued every 28 days; it provides updates through FAA facilities between publication dates. But pilots aren't always able to get all NOTAMs for all locations from all FAA facilities. It's up to the individual pilot to dig through the sources of national, regional and local NOTAMs to mine the worthwhile nuggets.
The NOTAM format was designed for the constraints of the old FAA teletype network that tied together far-flung Flight Service Stations. The data-transmission rate was at a mule's pace compared to what we're used to on today's computer networks, and open time on the wire was at a premium. Almost as an homage to those technologically challenged days of yore, today's NOTAMs still consist of a bare minimum of characters that sometimes require the patience of a saint to decipher. Would a casual NOTAM reader really know that LAWRS refers to a "limited aviation weather reporting station"; FRH means you should "fly runway heading"; CBAS refers to "Class B airspace"; LSR means that there's "loose snow on the runway"; or that PAEW refers to "personnel and equipment at work"?
Change is on the way. The FAA, in conjunction with foreign aviation organizations, is at work on a global project to move NOTAM compilation and distribution into the digital age, with all countries using the same format and standards. The bottom line is to make all up-to-date NOTAM information available through any computer. Eventually, there will be a single source for all U.S. NOTAM information, so everyone will be reading from the same NOTAM page, and pilots, briefers and airline flight dispatchers won't have to go hunting all over the place. The potential reduction in required effort alone should be a major encouragement for pilots to check NOTAMs before each flight. Full implementation is expected to begin sometime after 2011. A trial program will be underway in Europe sometime this year.
In the interim, the FAA's PilotWeb (
https://pilotweb.nas.faa.gov
) now offers temporary flight restrictions (TFRs), flight data center (FDC) NOTAMs, and Air Route Traffic Control Center (ARTCC) NOTAMs and Special Notices. You can even download the 28-day NOTAM publications for free, instead of having to buy a $115 annual subscription for the printed version. But you still should check with a Flight Service Station before a flight so as to be "legal."
At the heart of the digital program is the concept of formatting basic NOTAM information so that it can be interpreted by computer software to provide better flight planning, assisted situational awareness and assisted navigation. If you're planning to go from airport A to airport B, the computer will filter out the reams of irrelevant NOTAMs that are of no value to you. You'd be shown only the information you need to know. The information would be understandable, without mind-numbing contractions. There would also be dynamic use of the NOTAM information to produce visuals on a cockpit display. For example, a NOTAM about a closed runway could produce an airport map with red "X" markings along the closed runway. It might be possible for the computer to warn you if, for example, you attempt to contact ATC on a radio frequency that has been NOTAMed out of service.
In the meantime, we can only speculate whether a modern system for compiling and distributing NOTAMs might have prevented the following accidents.
Page 1 of 2