Tuesday, April 1, 2008
LSA Safety
Analyzing some recently investigated accident statistics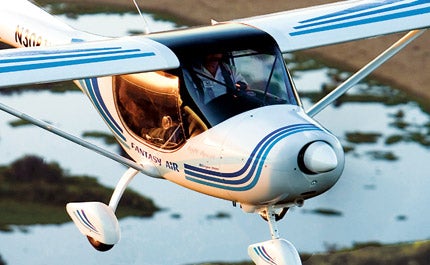 We seem to be at the dawn of a new era of hope for general aviation's future with the steadily increasing popularity of light-sport aircraft (LSA). For many, the light-sport license is a lower-cost entry into the pilot community. For others, the ability to use a driver's license in lieu of an FAA medical certificate offers a way to continue flying as long as it's possible to self-certify that there's no medical condition that would stand in the way of safely performing light-sport pilot duties. For everyone, an LSA's lower fuel consumption offers hope that the cost of the $50 fly-in hamburger may someday really drop back to $50—something we haven't seen in years!
Industry and government officials alike have every good intention of ensuring that light-sport flying offers at least an equivalent level of safety to what we've grown accustomed to throughout the rest of general aviation.
There haven't been enough LSA accidents to provide adequate data for the kind of analysis that can be done for the rest of the general aviation fleet. On an anecdotal basis, however, light-sport accidents already show some elements that are common to the rest of general aviation accidents. These include running out of gas, improper in-flight decisions by the pilot and failure to maintain airspeed, which results in a stall.
In one major respect, an LSA should be safer to fly than the stock general aviation aircraft to which we've been accustomed. Under the FAA's classification, an LSA can have a maximum takeoff weight of only 1,320 pounds (1,430 for seaplanes), a maximum stall speed of 51 mph (41 knots) and a maximum speed in level flight with continuous maximum power of 138 mph (120 knots). Less speed and less weight should translate into less energy that needs to be dissipated in an accident sequence and more room for the pilot to engineer a controlled crash situation. As we all know, you're more likely to survive when the airplane is kept under control.
It's a bit too early in the game to determine the extent to which LSAs may replace larger general aviation planes as real transportation machines. Some of the LSAs in the marketplace have the capability to be reasonably dependable for getting from point A to point B at a good speed and with excellent fuel efficiency, provided the weather cooperates. Many of the LSA accidents investigated so far have occurred during local flights. It will take time to determine whether there's any correlation between LSA accidents and distances flown, and the roles played by elements such as en route decision making, pilot fatigue and navigation.
Safety has been at the forefront for LSA manufacturers, as well as the FAA and pilot "alphabet" organizations. One manufacturer, for example, has its own training-transition syllabus to supplement FAA-required training. It's designed to help ensure that new students and already-licensed pilots are brought up to speed on differences between LSAs and others before being turned loose. A recurring theme is that existing pilots need to understand that while LSAs may look similar to what we're used to, there are differences. The manufacturer notes that lighter weight and low wing loading may make an LSA more sensitive to wind and turbulence. Landing-gear feel and shock-absorbing capability may be markedly different from other aircraft pilots have flown. The large unobstructed canopy and different seat position may require an adjustment of the viewing angles to which pilots have become accustomed. The sound of a higher-revving engine may take some getting used to. Even cleaning and maintaining the appearance of the nonaluminum materials used in LSA construction involves new learning.
Here are some examples of LSA accidents recently investigated by the NTSB.
On March 10, 2007, a Flight Design CT-SW was being used by a company's chief pilot, who held an ATP rating, and an instructor who was undergoing training at the Double Eagle II Airport in Albuquerque, N.M. The student instructor had performed four touch-and-go landings to runway 22, which is 7,400 feet by 100 feet. On the fifth landing, the aircraft's approach speed was normal and the wind was calm. The student instructor started the flare when the aircraft was two to three feet above the runway. As the airplane settled, the chief pilot raised the nose slightly to prevent what he thought might be a bounced landing. The airplane then ballooned up, and the pilots decided to execute a go-around. The chief pilot added power and eased the nose up some more. Instead of gaining altitude, the airplane settled to the runway in a slight left crab. It touched down first on the left main landing gear, which broke. The airplane then slid along the runway for about 300 feet, went off the runway's left side and flipped over.
Page 1 of 2
Labels:
Accident Statistics
,
Columns
,
Decision Making
,
Features
,
Flight Hazards
,
Flying Skills
,
Learning Center
,
LSAs
,
NTSB Reports
,
Pilot Skills
,
Safety