Tuesday, February 8, 2011
Midair Over The Hudson
One digit in a radio frequency might have made all the difference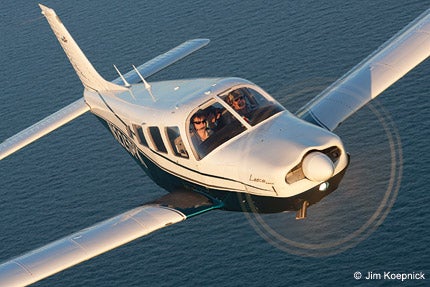 COLLISION. The NTSB attributed multiple factors to the midair of a Piper Lance, such as the one above, and a Eurocopter, including limitations of "see and avoid" and a distracted controller.
As a result of its investigation of the August 8, 2009, midair collision over the Hudson River, the NTSB says it's time for the FAA to improve the information it offers to pilots about avoiding collisions. The aircraft were a Piper PA-32R-300 Lance on a personal flight and a Eurocopter AS350BA helicopter on a sightseeing flight operated by Liberty Helicopters. The collision occurred near Hoboken, N.J. The pilot and two passengers aboard the airplane and the pilot and five passengers aboard the helicopter were killed.
The NTSB points out that the FAA Advisory Circular "Pilots' Role in Collision Avoidance" is badly in need of updating because a lot of things have changed since it was put out in March 1983. The Advisory Circular includes guidance on operating within terminal radar service areas, terminal control areas and airport traffic areas, which became obsolete with the 1994 reclassification of North American airspace. It says nothing about air tour operational areas, and nothing about technological advances that may aid in traffic awareness, such as portable or panel-mounted traffic-alerting equipment designed for general aviation aircraft.
Both the Piper and the Eurocopter had Mode S transponders and equipment to receive signals sent out by the FAA's Traffic Information Service (TIS). During each radar scan, which occurs about every five seconds, TIS sends the estimated position, relative altitude, altitude trend and ground track information for a maximum of eight intruder aircraft located within seven nm horizontally and up to 3,500 feet above and 3,000 feet below.
TIS also provides an aural and a visual alert when an intruder is projected to come within ½ nm and 500 feet vertically within the next 34 seconds. Receivers create visual displays of traffic for the pilots, and can issue visual and aural conflict alerts.
The NTSB found that the FAA's TIS system sent the Piper traffic alerts concerning the helicopter beginning 32 seconds before the collision, and sent the helicopter traffic alerts concerning the airplane beginning 37 seconds before the collision.
The NTSB couldn't determine whether the pilots were seeing the traffic displays their equipment could generate or were aware of visual and aural alerts, which intruding aircraft would activate. A video recorded by a ferry boat passenger showed that the Piper appeared to roll to the right just before the collision, as if the pilot was attempting an evasive maneuver.
Page 1 of 4