Tuesday, July 6, 2010
The Light-Sport Safety Record
Tracking 2009 incidents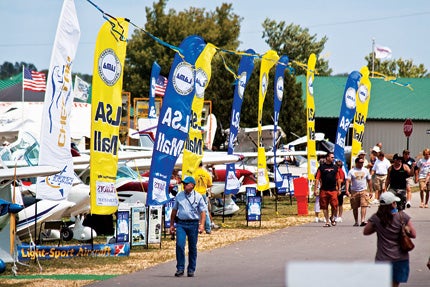 Statistics from NTSB reports show that pilot error, not airplane malfunction, is often the culprit in general aviation accidents.
While the NTSB's preliminary statistics show that the number of general aviation accidents dropped again last year, as did the number of people killed, the estimated number of hours flown also dropped, resulting in a slight increase in both the overall and fatal accident rates. It's estimated that GA aircraft flew 20,456,000 hours in 2009, compared with 22,805,000 in 2008. In 2009, there were 1,474 total accidents, 272 of them fatal; in 2008, there were 1,566 accidents, and 275 involved fatalities. A total of 474 people were killed, compared with 494 in 2008. Last year's GA accident rate was 7.2 per 100,000 hours flown, and the fatal accident rate was 1.33 per 100,000 hours. In 2008, those numbers were 6.86 and 1.21, respectively. The NTSB didn't provide separate statistics for LSA, but my search turned up 72 accidents and incidents involving various types in 2009, from airplanes to powered parachutes. Of these, 17 involved fatalities, resulting in 23 deaths. That made 23.6% of these 72 LSA accidents fatal, compared with 18.4% for all of GA. Several examples show that pilot error, not airplane malfunction, is often the cause.
In April 2009, the NTSB issued safety recommendations after several LSA accidents. The NTSB called on ASTM International, the industry organization that sets LSA standards, to enhance standards regarding protection from flutter, to be sure required control stick forces minimize the possibility of pilots inadvertently overcontrolling an airplane and to provide better airspeed data in handbooks and on airspeed indicators.
A two-seat weight-shift aircraft was flying from north to south over the Shawnee Field Airport at Bloomfield, Ind. The sky was clear and the wind was calm. An instructor and builder of the accident airplane make and model observed the aircraft, which was equipped with a pusher propeller, "initiate a steep climb and then an approximate 60-degree-bank turn." Another witness reported that while maneuvering for the landing, the airplane entered a "hard left bank at low altitude and went into the ground." The sport pilot and passenger were killed. Investigators found nothing wrong with the airframe or engine. The published stall speed for the airplane is 32 miles per hour.
Toxicology test results on the pilot revealed the recent use of diphenhydramine, an over-the-counter antihistamine that can have sedating effects. The extent to which pilot impairment from the medication may have played a role in the accident couldn't be determined. The NTSB determined that the probable cause of this accident was the pilot's failure to maintain control of the airplane while maneuvering.
Page 1 of 3