Thursday, June 11, 2009
The Pilot Decides
Controllers offer assistance, but it's the pilot's responsibility to manage the flight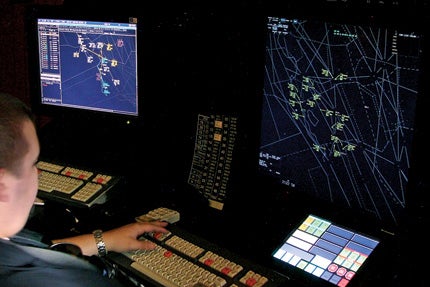 NAVIGATING THE BUSY SKIES: Air traffic controllers can provide invaluable guidance as aviators fly through weather and traffic, but pilots need to recognize their own responsibility with regards to continuing a flight. (Photo by John Ruley)
Each year, the National Air Traffic Controllers Association (NATCA), the union representing FAA controllers, honors members who've helped save pilots from dangerous situations that might have resulted in accidents. These members are given the Archie League Medal of Safety, an award named for the man credited as the first controller. In case you never heard of Archie William League, he was a barnstormer who flew mostly in Missouri and Illinois. In 1929, the City of St. Louis hired him to direct traffic at the airfield that eventually became Lambert-St. Louis International Airport. At first, he directed pilots by waving flags: red to hold or stop, and checkered to take off or otherwise go. In 1937, he was hired as a controller by the U.S. Bureau of Air Commerce, which later became the Civil Aeronautics Authority and, eventually, the FAA. In May 1965, he went to work in Washington, D.C., as the director of air traffic services, and subsequently became an FAA assistant administrator. He died in 1986.
This year, NATCA honored 16 controllers for their involvement in 11 flight assists in 2008. One controller helped a pilot with an onboard fire return to the departure airport; another enabled the pilot of a single-engine airplane to find a place to land after the engine failed during a night flight.
It's nice to honor those who've successfully helped others, especially when we can learn from their experiences. A controller can be thought of as an additional crewmember, for purposes of applying crew resource management techniques, especially when the workload increases on a single-pilot flight. No matter how helpful a controller may try to be, however, it's the pilot who's ultimately responsible for exercising the proper judgment, having the necessary skills and maintaining command of the flight. Part of that pilot-in-command responsibility includes understanding the source and completeness of the information the controller is using to formulate the advice and instructions he or she is providing.
Page 1 of 3