Wednesday, October 1, 2008
Great Sandy Australia
See Down Under—on the coast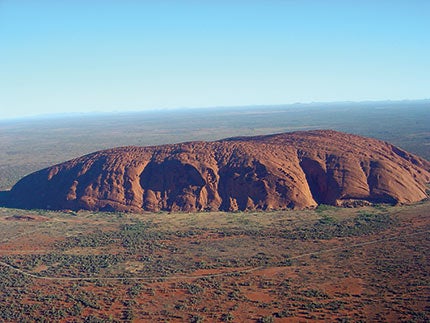 His name is Blair Howe, and if he were any more Australian, he'd hop or eat eucalyptus leaves. Though he's only about five feet and 11 inches, he's a giant of a man—probably 270 pounds—all muscle and attitude and fiercely proud of his country and accomplishments.

Howe had been a hard-rock gold miner for 35 years in Western Australia, swinging a pick and hoping for the big strike. One day in 1993, he found it. The tough Aussie sold his claim to a giant gold-processing company and became an instant millionaire.

Shortly after Howe struck it rich, he decided to start an air cargo service to shuttle gold-mining equipment from Perth to the outlying mines that dot the half-million square miles of desert in Western Australia. Incredibly, when a digging machine went down, most companies had replacement parts trucked the 500 to 1,000 miles from Perth while everyone stood around wringing their hands at several thousand dollars an hour.

Despite the lack of airports, Howe saw an opportunity to make money flying people and parts out to the desert in a fraction of the time. Australia is about the size of the United States with the population of New York City. Utility airplanes are popular but not that readily available. Howe found a local Cessna 206 to start his service, but demand made it obvious he needed a second airplane.

Howe got my name from the Mooney distributor in Sydney and called to inquire if I might be willing to ferry a 1968 Cessna Skymaster to Mount Magnet. "Sure," I said cautiously. "Where's Mount Magnet?"
It turned out to be slightly south of the Great Sandy Desert, hunkered on the fierce, dry, mostly uninhabited left side of the land Down Under. Great place for gold, not so great for humans. Most of Australia's population lives along the beautiful and fertile coast, and for good reason.

I picked up Howe's Skymaster in South Carolina, ferried it across the States, and promptly discovered the rear engine had three cracked cylinders (not a big surprise, since the 337's large, overhead cooling scoop has a tough time keeping the aft engine cool). Time for a new rear engine.

Four months later, with a fresh factory reman on the rear and 25 hours of break-in along the West Coast, I was ready for the Pacific crossing to Australia, or so I thought. The 337 still had a slight problem—range. At a burn of 12 gallons per engine per hour, the airplane used 24 gph and only cruised about 145 knots heavy, 155 knots light. To make the first 2,100 nm leg from Oakland, Calif., to Honolulu, Hawaii, I needed at least 14 hours plus a two-hour reserve—almost 400 gallons of fuel. With 130 gallons in the wings, the airplane required 270 gallons of supplemental fuel in the cabin, and that was exactly all the room there was. This meant the entire rear compartment and the copilot seat from floor to roof was taken up with fuel.

In other words, I couldn't afford any headwind and a tailwind was preferable. I watched the weather for another three weeks before encountering an unusual +11 overall component, then leaped off for Hawaii, fingers crossed and pilot relief bottle in hand.

The Skymaster is a reasonably comfortable ride, provided you don't have to sit in it for five or six hours straight, much less 14. Almost predictably, I had to leave the rear cowl flap open and run the rear engine about 1.5 gph rich to keep the CHT from creeping into the red. I stopped the clock at 14:15 when the green hills of Oahu appeared beneath the nose.

Two days of butt recovery later, the nearly perpetual trade winds pushed me along on the 2,250 nm leg to Pago Pago, American Samoa, in a mere 13:33. From there, weather edged me far west to Honiera, Solomon Islands; 1,750 nm in another 11:31. My final overwater leg into Cairns, Australia—a piddly 950 miles—raced by in only 6:27.
Page 1 of 2