Tuesday, May 20, 2008
Llamas & Condors
XC Log: Try South America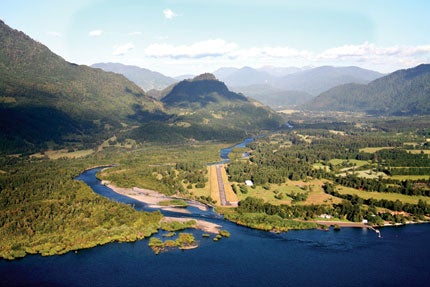 I was at a speaking engagement in Alaska awhile back, talking about the joy and pain of flying the oceans, when a member of the audience asked about my experiences in Central and South America.
South of the border beyond Mexico is an obvious destination for many norteamericano pilots, even those from Alaska who tire of the long winters. The attractions of the southern continent are many. If you're an aviation bum, like me, the flight can be comfortable and easy, all over land if necessary, so there's little risk of drowning. Plus, as continents go, it's relatively close by.
The distance from San Diego to Panama is only 2,500 nm, and departing from Brownsville, Texas, can cut that down to 1,700 nm. Alternately, you can access South America across the Caribbean or through Belize. If you speak even a smidgen of Spanish, you can get along in every country except Brazil, but in most places, you won't need anything but English. The usual route departing from the States is south, through such exotic waypoints as Puerto Vallarta or Acapulco to sleepy Tapachula, Mexico, five miles north of the Mexico/Guatemala border. From there, you hop off to modern San José, Costa Rica, then down to Panama City if you're planning a trip east of the Andes to Venezuela or Brazil.
If you're headed down the west coast, bound for Ecuador, Peru or Chile, you depart from San José, hop across the Gulf of Panama, then point straight south with the Andes towering on your left and the Pacific to your right. (In case you hadn't guessed, it's probably best to avoid Colombia.)
I've made a dozen or so trips to South America—in everything from Skylanes to Cheyennes, most of them to Ecuador, Chile and Argentina. After San José, friendly Guayaquil, Ecuador, is a standard stop, followed by Lima, Peru, one of the most expensive cities in South America. The FBO at the Lima-Callao Airport takes care of its crews, but landing fees for a 182 or Bonanza still run $500 to $600.
But if you're headed south, and the weather is good, you can look forward to the unusual Nazca Lines of Peru on the Plains of Nazca, 200 miles south of Lima. These huge geoglyphs, as tall as 800 feet, have fanciful drawings of birds, people and animals etched into the desert floor.
The drawings are alleged to be 2,000 years old, preserved in the dry, hot weather with little wind and virtually no rain. (In fact, the Atacama Desert, slightly farther south, near the border with Chile, has had no recorded rain for the last 200 years.) No one knows what motivated the giant geoglyphs, or how the ancient Nazca people were able to draw them, since flying hadn't been invented, and the only way to appreciate the monstrous art is from above. Some people have even hypothesized that aliens directed the construction.
My most recent South American trip was from San José, Calif., to Rincon de los Sauces in the Patagonia Desert of Southern Argentina. I delivered a Cessna 207 to Schlumberger for use in its oil-field exploration efforts in the area. Freshly licensed pilot Peter Webb was in the right seat for the trip, and his knowledge of Spanish was especially welcome.
Out of Santiago, Chile, headed for Neuquén, Argentina, we had to cross a high pass in the highest part of the Andes. It happened to be the pass between South America's two highest peaks, 22,841-foot Cerro Aconcagua and 21,555-foot Cerro Tupungato. The view straight up, to the sides and directly between the peaks is equal parts sobering and terrifying.
Page 1 of 2