Tuesday, May 24, 2011
Low Level By Columbia
When is it necessary to ad lib, and when is it just plain dumb?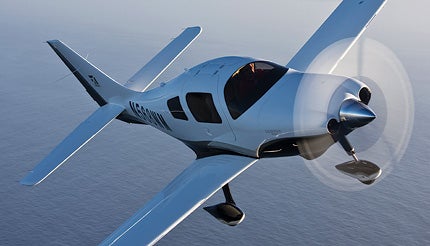 UNDER THE WX.

Bill Cox flew a Columbia 400 from Maine to North Carolina under low ceilings.
What had begun as a simple, 4,500 nm, late-winter ferry flight in a capable airplane had deteriorated to an ignominious retreat. The initial mission had been to fly a 2007 Columbia 400 from the U.S. East Coast to Geneva, Switzerland, in March, during some of the coldest early-spring weather anyone could remember.
Goose Bay was running about -30 degrees C when I launched from Bangor, Maine, on the second day of the trip. Not a problem. I had dealt with worse temperatures many times. With a proper preheat, anything was possible. Or so it seemed.
Trouble was, even if I thought I was ready for the cold, the airplane wasn't. The Columbia's sophisticated, thermostatic climate-control system, so effective at combating the heat of the Southwest desert, couldn't contend with the severe, cold temperatures several thousand feet above the frozen tundra, and the airplane's oil temp wasn't happy with them, either.
In fairness, few general aviation airplanes that aren't specifically prepared for the extreme cold of northeast Canada in winter can handle the job.
Considering that I'd need to fly even higher across the Greenland ice cap, operating in even colder temperatures, there was little choice but to return the airplane for a winterization kit.
This meant flying back to Bangor, then 750 nm down the East Coast to the dealer. Trouble was, New England was beginning to feel the influence of spring, a series of warm fronts marching across upstate New York and Massachusetts, and that meant icing.
The day of my flight south saw gnarly weather move into the area. Much of the Northeast was blotto, from Portland, Maine, to Atlantic City, N. J., with forecast icing from 2,000 to 20,000 feet, not a day to be filing IFR with nothing more exotic than pitot heat for protection. There also was a convective SIGMET for moderate to severe turbulence from 4,000 to 20,000 feet.
Equally bad, the flow at 6,000 feet was ferocious, pretty much on the nose at 40 knots. A higher altitude wasn't even worth considering, as winds would have effectively had me flying in place.
Page 1 of 3