Saturday, November 1, 2008
Ode To The Fast Lane
General aviation answers a question that wasn't important until recently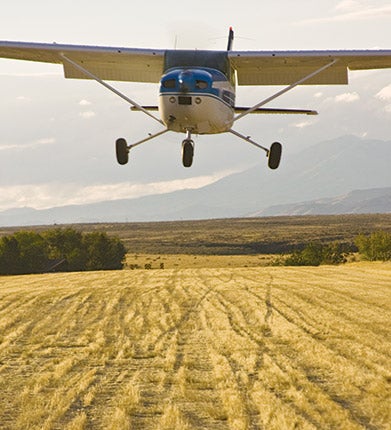 I wouldn't want to be riding out on the wing tonight. The wind is roaring down out of the north like a polar bear's breath—a vicious torrent of air frozen by winter and twisted by the Rocky Mountains. Somewhere below, far down in a blanket of black sky four miles deep, the night snow of November blitzes New Mexico and Colorado into immobility.
But for me, the night is stars and moon and warm leather and the snore of my engines through the velveteen, obsidian darkness. On the panel before me, two dozen instruments paint impressions of my 200-knot speed, and a half-dozen radios verify that I'm now far from where I was and closer to where I want to be.
Still, I seem to be suspended in my private cocoon of comfort, detached from the reality of solid ground. The OAT suggests it's minus-30 degrees C outside, but the Janitrol heater is keeping up, and my Zulu headset keeps out the noise but lets in the music of Wayne Bergeron—more than a fair trade.
The engine nacelles on each side glow from the warmth of orange-hot turbochargers, happily spinning at 80,000 rpm, fooling my Continentals into believing that they're breathing the air of Denver, Colo., instead of compressing the sky at 21,000 feet. I'm alone in the little twin tonight, reaching for Wichita, Kans., somewhere out on the plain.
"How did we come so far so fast," I wonder behind the gentle chaff of my oxygen mask? Can it really be only an incidental century since man discovered the incredibility of powered flight? Can we really have leaped so high and so far so fast?
Yes, yes and yes. It seems somehow a monstrous joke that one of the most significant steps forward since the invention of the wheel took nearly 5,500 years to achieve; yet, once realized, progress in the new discipline has been little short of exponential.
Until the 19th century, the most clever form of transportation known to man was the back of a horse, plodding along at perhaps 10 knots. Trains elevated that to perhaps 40 knots. Today, private air travel is gaining on Mach 1.0, and 200 knots is becoming boringly commonplace on even single-engine piston aircraft.
Business and professional men and women, doctors, lawyers, bricklayers, plumbers and housewives—all are beginning to take airplanes for granted as both the machines and the pilots who fly them become safer practically every year. The accident record of "those little airplanes" is better than almost any other form of transport: snowmobiling, water skiing, dog sledding, ice boating, paragliding, bungee jumping and, most definitely, driving.
Page 1 of 2