Tuesday, December 2, 2008
Renewal
A simple, four-hour round-trip helps remind me of the reliability of GA airplanes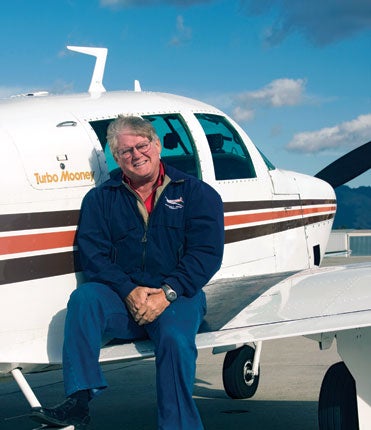 In most recognizable respects, the trip was hardly unusual. It was just an easy 280 nm hop from Long Beach to Groveland, Calif., for a speaking engagement before the Pine Mountain Lake Aviation Association, a typical out-and-back, 1+50 hop in the LoPresti Mooney, precursor to at least a four-pack of 400 to 600 nm trips around the Southwest.
Even so, I knew this edition of X-Country Log would be the 300th time I've tried to put words to thoughts about flying the world. After 25 years, it would seem to deserve some special effort. For whatever it's worth, I'm told this is now the longest-running continuous column in aviation. That and $4 will buy you a mocha Frappuccino at Starbucks.
Like most folks who've spent what passes for a career kicking around this industry, I've accumulated a few hours and a couple of ratings, but I'm still amazed at how much more there is to learn. Every flight, no matter how mundane or seemingly matter-of-fact, reveals something new.
Today, I'm rediscovering my Mooney. A series of ferry flights and long-distance editorial obligations had left the little Executive snuggled in its hangar—polished, waxed, annualed and ready to take to the sky, if only Dad would let it. Yet, for the most part, I'd been busy flying other people's airplanes, everything from 414s and 421s, a TBM 850, PC-12, Epic LT and King Air F90 to a new Turbo 206, Luscombe 8F, Maule M-7, Cessna 350 and Twin Comanche. (Hey, it's a tough job, but…) It just seemed there never was enough time to take the Mooney for a walk longer than 10 minutes around the pattern on a Sunday afternoon. Not good.
The logbook suggested I had flown my airplane only 70 hours the previous year; that's $85 per hour just to offset the hangar. Add all the other fixed costs, plus fuel, oil and the inevitable etc., and I probably could have chartered an Eclipse for less. (Sorry, bad analogy.)
And, so what? I choose to own an airplane because I want to, not for any economic reason. I put up with all the financial inconveniences so I can enjoy the fun conveniences. If I didn't believe that, all the airplane money would be rotting away in a bank somewhere, earning interest toward my alleged retirement. Horrifying thought.
Page 1 of 2