Tuesday, April 21, 2009
Traveling By "Corporate" Airplane
A local breakfast flight emphasizes the value of corporate aviation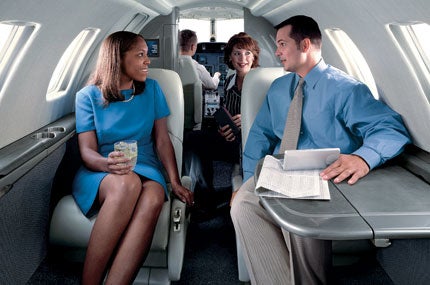 TRAVELING FOR BUSINESS. Bill Cox asserts that it often makes economic sense for executives to travel by business aircraft rather than the airlines.
I've owned personal airplanes almost since I earned my pilot's license 43 years ago. I didn't buy my first airplane, a Globe Swift, specifically for business (in fact, I don't recall ever flying it in conjunction with a story), but most of the half-dozen airplanes I've owned since have been employed primarily in pursuit of profit.
I couldn't help but reflect on that reality recently while having breakfast at Chino Airport in Southern California with Dave Jackson, now the CEO of King Schools. Dave is an old friend from our days of working together on the '80s-vintage ABC show, Wide World of Flying, me in front of the camera and Dave behind it. These days, he flies a Bonanza, and we'll sometimes rendezvous at a local airport to commiserate about the state of the industry, how much better things used to be and why we're not as young as we were then.
Our meeting in Chino was most notable in that it was one of the first times I'd flown my airplane for fun in several months. It seems my Mooney trips are virtually all on editorial missions of some kind. Last year, in conjunction with stories, I flew to perhaps a half-dozen local air shows, the Reno Air Races, Albuquerque Balloon Fiesta, AOPA Expo in San Jose, two speaking engagements in California and a number of other locations.
That's not to downplay the importance of fun flying. I'm a big fan of aviating for the sheer joy of it. I used to fly a Super Decathlon and Pitts S2C strictly for vertical and inverted grins, and I'll always defend a pilot's right to spend discretionary income however he or she chooses, as long as it's legal and doesn't hurt anyone.
Recently, however, we've seen the validity of corporate and business airplanes challenged by Congress. A Congressional committee took America's Big Three automakers to task a few months ago for flying to a Washington, D.C., bailout hearing in business jets.
Page 1 of 3