Tuesday, April 26, 2011
When Not To Go
Contrary to popular belief, ferry pilots aren't brave. Bravery is being the only one who knows you're afraid.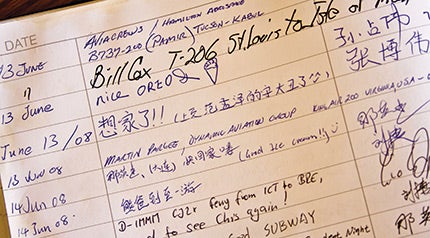 ACROSS THE POND.

Logbooks at Bangor and Goose Bay tell the stories of ferry flights past.
There's a sign-in guestbook in the pilot's lounge at Avitat in Bangor, Maine, that contains the names and missions of most of the international ferry pilots who have come through here in the last 30 years. Leaf through it, and you'll see signatures of pilots such as Don Kerby, Clark Woodard, Don Holmes, Ken Dawson, Tom Willett, Tony Vallone, Jon Egaas and several hundred others. I'm in there, too, a hundred or so times, not as often as the old pros above, but my entries start in about 1979 and continue, sporadically, to the present day. Many of the pilots above aren't with us any more.
Come to think of it, perhaps I've been doing this too long. Of the aviators listed, only Jon Egaas and I are still delivering airplanes, Egaas primarily in Ayres crop dusters, and me in whatever.
I can't help reflecting on that fact as I sit in the airport hotel, looking out the window of my room with my trusty B&L binoculars. It's about a half mile between the terminal and the GA ramp where "my" 2007 Columbia 400 waits patiently in the cold.
It's a capable little airplane, but deice equipment is almost nonexistent. It consists of a hot prop and pitot heat. How many times over the last 30 years have I sat here watching the rain slant horizontally across the tarmac, or the snow blot out all visibility? I should have learned better by now. I make enough mistakes all by myself, never mind what Mother Nature throws in my path.
No discredit to Bangor. The biggest little city in America's far upper right, the jumping-off spot for most trans-Atlantic ferry flights, enjoys beautiful weather much of the time, but you might want to make your trip of discovery between late April and November rather than in mid-March.
Today, the rain is no worse than a slight mist, but the outside temperature is right at freezing, so in-flight icing is a good bet a few thousand feet up.
The day I arrived, the
Bangor Daily News
reported a light aircraft had crashed into a forest on a short 90-mile flight because of in-flight icing. And that pilot was a local.
It's that time of year again, when much of New England is plagued by rain, snow and ice, not quite winter and not quite spring. This time, I've been waiting in Bangor for three days, and not much has changed. Fortunately, the forecast is for improving weather, and with any luck at all, I'll fly to Goose Bay the day after tomorrow in preparation for the Atlantic crossing.
Icing conditions offer a perfect reason to employ the aviation adage, "When in doubt, don't." No question there's a difference between benign snow and icing. Some pilots in cold climates fly all winter without problems. My first flights in a Civil Air Patrol Super Cub out of Anchorage, Alaska, were flown on skis, and we often plodded through light snow both in flight and on the ground.
It's also true other aviators, knowledgeable in the ways of icing and flying well-equipped airplanes, can dodge the frozen bullet with a combination of experience, knowledge and bravado, but even most of them are cautious about flying in true icing conditions.
Page 1 of 2