Saturday, March 1, 2008
Why Learn To Fly?
The payback can outstrip the cost by a factor of several thousand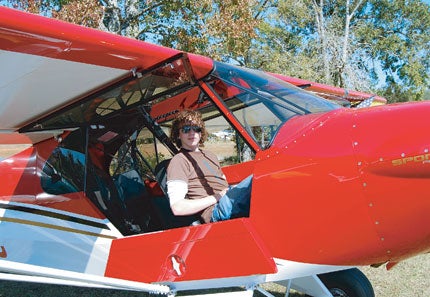 Pete runs a dental practice and learned to fly so he could transport his family to and from their vacation retreat in Ogden, Utah, without all the hassles of airline travel. Andy is a relatively young entrepreneur who made it big in video games and learned to fly as one of his rewards. And Patty pursued an aviation career, flight instructed, flew charter and eventually climbed atop the aviation pyramid: She now flies Airbus 330s across the pond for US Airways.
Then there's me. I learned to fly because I was an enthusiastic airport kid who knew airplanes would be part of my life, one way or another. Early on (very early on), I washed airplanes in Alaska in both summer and winter for the privilege of flying with their owners. I shagged parts, swept hangars and generally ran errands for access to the sky. Long before I was eligible to log my first hour, I knew the difference between an aileron and a longeron, an elevator and a stabilator, a locomotive engineer and a flight engineer.
When I began working on my private ticket in 1965, rental trainers, typically Piper Colts, cost about (wait for it)…$7 per hour and instructors charged $2 per hour. When I passed my private checkride six months later, my out-of-pocket expenses totaled a munificent $700.
Okay, I'm well aware that flight training is a lot more expensive today, typically by a factor of at least seven (and, no, the CPI probably hasn't jumped sevenfold). Flying costs what it costs, and without going into a long financial analysis, I'll neither defend nor decry the expense.
But I'll tell you this: The $700 I spent back in 1966 was absolutely the best investment I've ever made, worth far more than my 10,000 shares of IBM (not). I wouldn't consider trading the experiences I've had in the sky for anything.
Before I go any further in extolling the joys and virtues of learning to fly, I'm well aware I may be preaching to the choir. The majority of
Plane & Pilot
's 250,000 readers are probably already pilots and don't need to be told about the wonders of the sky.
A sizeable number of readers, however, may have been on the fence about flying for years, perhaps intimidated by the commitment of time and/or money necessary for the private pilot license and even more reluctant to calculate the cost of the instrument rating (a necessary add-on if you hope to use the license in nonperfect weather conditions).
Training time hasn't changed much since the '70s, but cost has. The combination of elevated fuel prices, rising insurance rates and other factors has driven aircraft prices (and therefore rental rates) up and up. Even if you economize wherever possible and rent old-dog, beat-up 150s from rural flight schools where overhead and rates are low, you're unlikely to get by for less than $5,000.
If you understand a little about what flying can do for you, however, you can better appreciate the value of the private pilot certificate. A pilot's license is one of the most valuable skills you can add to your personal résumé, regardless of whether it enhances your business prospects, improves your ability to attract the opposite sex or simply boosts your ego. There's a certain synergy to flying that grants benefits greater than the sum of its parts.
Page 1 of 2