Tuesday, May 25, 2010
10 Top Products
The flying/buying season is in full swing: Hop on board!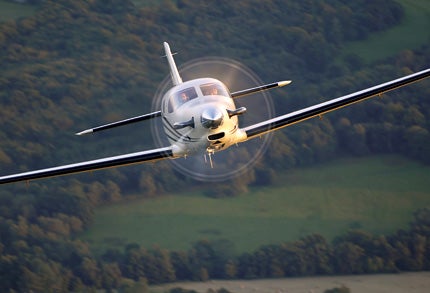 Year in, year out, up economy or down economy, enterprising aviation entrepreneurs always find new and exciting ways to get our juices flowing and our checking accounts draining. Midway through 2010, as the molting U.S. economic picture continues to refeather, a lot of cool new stuff demands our spending attention. Even though purchases of new aircraft and "discretionary" accessories have been in slow flight for the last two years, sales numbers are climbing again as we sail the skies over flying fields nationwide.
At April's Sun 'n Fun Fly-In, sales of 30 or more LSA were reported. That's good news for all of GA. More new models—in a field already choked with 106 registered LSA—will debut in the months ahead.
Encouraging signs also include Piper Aircraft's recent surge of hiring in support of the on-track PiperJet program. Cessna is shipping Skycatchers. The first PiperSport LSA were delivered to new owners—as promised—in April. And Piper continues to revitalize its lower-end GA market with updated models such as the Garmin G600–equipped Archer.
Herewith is our take on 10 exciting new products, from turboprops to avionics goodies to aviation apps for the new Apple iPad. It's blue-sky flying ahead!
Bird Of Prey
One of the eye-popping, fantasy-stoking showstoppers at Sun 'n Fun was the gorgeous high-speed cruiser Kestrel. If speed (352 knots at 25,000 feet!), beautiful and fluid lines, luxurious cabin comfort for six passengers and turboprop power are high on your shopping list, then the Kestrel from British company Farnborough Aircraft deserves a thorough vetting. This carbon-fiber composite stunner is no slouch in any department. Kestrel can climb at more than 3,100 fpm, travel IFR more than 1,500 miles, carry a useful load of 3,336 pounds and operate up to 31,000 feet.
Although it bears more than a passing resemblance to the defunct kitbuilt Epic LT—Farnborough did the initial aerodynamic design work on the LT—the Kestrel is 27% larger and will be built as a certified airplane, not a kit. Financing is still underway, though, so don't expect one before 2013. Visit
www.farnborough-aircraft.com
.
YouTube, Meet Cockpit
If sales numbers are good evidence—and they usually are—pilots yearn for video stardom. The debut of Light Sport Group's A/V-Ator Edition Contour HD camera system this spring tapped the share-everything zeitgeist of our online culture so well that the company sold out at its first air show!
Light Sport Group markets the inside-/outside-mount camera (economically at the $699 introductory price) as the perfect flight recorder. Think of it as a palm-sized black box—with entertainment chops. The cam records voice along with full-resolution, 1080p, high-definition imagery. In 720p mode, the frame rate can be brought up to 60 fps.
A typical LSA setup behind the pilot and passenger captures—via a 135-degree wide-angle lens—both aviators, the entire instrument panel and everything beyond the windscreen. No wonder flight schools are snapping these up as a great training aid. What better way to study landings, train your ear for ATC communications and have fun documenting all your flights?
The compact and lightweight camera records everything on the included itty-bitty 8 GB microSD card. Visit
www.lightsportgroup.com
.
Page 1 of 4
Labels:
Buyer's Guide
,
Features
,
Gifts
,
Learning Center
,
New Products
,
Pilot Supplies
,
Air Races
,
Best Buys
,
Gear
,
Air Shows
,
Gadgets