Tuesday, August 24, 2010
11 Best New Products
Innovation continues to drive GA's heart and soul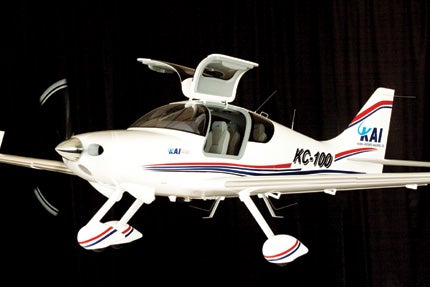 KAI KC-100
The heart and soul of civilization, if you buy the exhaustively researched conclusions in Matt Ridley's top-selling book The
Rational Optimist
, has been trade between the world's people, from the very beginnings of humankind's first yearning to explore and occupy the far horizons of planet Earth. Trade, in turn, is fueled by innovation, which often flourishes not because of, but in spite of, governments, kings, wars, restrictive trade agreements and the rest of the factors usually implicated in nation building. It's innovation through specialization that drives progress ever forward. And we've become increasingly, fantastically specialized as a species throughout history. Despite the doom-and-gloom hysteria drummed up daily by the news media, people all over the world work fewer hours for the necessities and luxuries they buy than ever before in human history. We live longer, fewer people die in wars, and more people have more food to eat than ever.
So how, I'm sure you ask, does all of this relate to our fall roundup of new aviation products?
Simply scan down the list of what's debuted in the last several weeks and you'll see innovation in full and glorious array: new, lower-priced, more powerful handheld GPS displays; incredibly effective noise-cancelling headsets; in-production electric aircraft; bold new aircraft with roomy, comfy automobile-like interiors; even more innovative flight training software for the iPad; bolt-on pods for carrying fold-up motorcycles and a whole lot more.
Tough times may tighten belts and slow markets. But product innovation, driven by the creative dream of safer, more enjoyable, more efficient flight, only seems to thrive with ever more amazing diversification and nuance. You can't keep a good idea down, as the cool new "air wares" on the next few pages prove—and this list is only part of what has come out recently.
Read on and rest assured: General aviation is alive and well and living in the imaginations of engineers, designers and innovators around the world.
KAI KC-100
www.koreaaero.com
The East Asian manufacturing company Korea Aerospace Industries (KAI) turned more than a few heads with the model of a GA aircraft it intends to develop and market by 2014: the KC-100. Aimed directly at the Cirrus SR22 and Cessna Corvalis markets, the aircraft bears more than a passing resemblance to the former, right down to its two distinctive gull-wing doors.
The composite and carbon-fiber design will hope to compete with a slightly wider cabin and a suite of impressive features, including the Avidyne Entegra R9 avionics system, standard TKS ice protection and oxygen. Even air conditioning will be available.
Power will come from a FADEC-controlled Teledyne Continental 550-K turbocharged mill, which KAI claims will bestow a 190-knot cruise speed with a range of 1,200 nm. A useful load of 1,100 pounds or more is projected.
Whether the KC-100 ever sees the light of day in America remains contemplative. The state-owned company will certify the design for the South Korean market first, and the design may go through several modifications before a working prototype is flown.
This company knows aircraft though: It has built F-16s, T-50 advanced jet trainers and other aircraft under license for years.
Page 1 of 4