Tuesday, August 24, 2010
11 Best New Products
Innovation continues to drive GA's heart and soul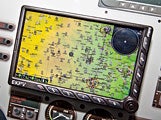 AvMap EKP V
AvMap EKP V
www.avmap.us
The latest version of AvMap's ever evolving portable GPS, EKP V, will fly out to cockpits by the end of this year. The buzz is righteous: The EKP V nests into the instrument panel via a new docking station, which is wired to other devices so the bright seven-inch LCD can display weather info, artificial horizon, anticollision info or whatever else is available—an innovation AvMap claims as a first for portable GPS.
The EKP V is thinner (.8 inches) and lighter (only 14 ounces) than its predecessor. Other changes include a "two-sides" keyboard with 10 hard keys, a progressive joystick and a smart wheel selector. The graphic interface is upgraded to increase customization, so pilots can choose what to display and where on the screen they want to display what: TAWS, weather, NAV, HIS and more. And playing off the EKP V's porta-
bility, AvMap has programmed in the ability to record individual profiles for different aircraft.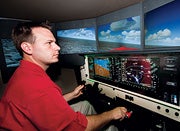 Redbird Parrot
Redbird Parrot
www.redbirdflightsimulations.com
Control tower fever, a malady that strikes pilots with heart palpitations, moist palms and rubbery tongues just before they make aircraft radio communications, remains a major psychological hurdle for flight students.
To help, Redbird Flight Simulators developed Parrot, a new artificial intelligence software module that understands radio calls and answers with appropriate, real-world responses. Parrot effectively simulates air traffic control communications by "knowing" where the airplane is at all times.
For example, if a flight school's Redbird simulator (several models, including the full-motion FMX), is programmed for a specific airport with weather challenges such as low IFR, Parrot delivers information appropriate to that situation. All frequencies will respond as if the student were flying into or away from the actual airport in bad weather: ATIS, ground control, tower, clearances and more.
It's a smart system, alright. For example, if the student doesn't give a correct ATIS code, i.e. "Information Kilo," Parrot will give instructions to go back and listen to the announcement again! If a student gives the wrong readback, such as pretakeoff instructions, Parrot won't allow takeoff until the student gets it right.
Dial in the wrong freq and Parrot won't respond, just like in real life. Asking for help elicits corrective instructions. It's all quite amazing. Available in the first quarter of 2011.

Bose A20
Bose A20 headset
www.bose.com
Imagine giving demos all day in the Bose booth at the recent Oshkosh. Large speakers constantly thrummed with very loud aircraft engine noises. So strong, in fact, that they vibrated your innards the closer you got! Of course, it was all to test the effectiveness of the new Bose A20 headset, and an impressive piece of essential hardware it is, indeed.
Noise-cancellation technology was invented by Dr. Amar Bose in 1986, and many companies have incorporated it into their headsets. But Bose continues to innovate. At Oshkosh, as soon as the noise-cancelling switch was activated, the annoyingly loud engine noise hushed to a mere whisper. Bose claims the new A20 has better noise reduction in even louder environments.
Other features abound, including Bluetooth mobile-phone compatibility and new, very comfortable ear cushions that have more ear room and don't leave eyeglass-stem impressions in your temples. A very cool feature: If you're cruising at 14,000 feet on autopilot and listening to your MP3 collection, any outside radio communication immediately phases out the music.
Page 2 of 4