Tuesday, August 24, 2010
11 Best New Products
Innovation continues to drive GA's heart and soul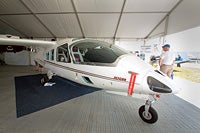 OMA SUD Skycar
OMA SUD Skycar
www.omasud.it
Amidst the current hoopla surrounding flying cars, here's a pusher twin with the word "car" in the name that seemingly obfuscates the discussion. However, Italian aircraft manufacturer OMA SUD's latest design, the Skycar, will never see a highway. You can forgive the company's PR department though. To sit in the Skycar is to be reminded of nothing so much as a large family automobile.
This five-seater twin (three seats behind two) has a really interesting twist: an impressively large "trunk" accessed from the rear of the low-slung, sleek-fuselage design, between its short twin tails! Two 200 hp Lycoming IO-360 engines mounted to the trailing edge of the high shoulder wing give the push. Retractable gear handles unpaved airfields, says OMA SUD, and there's a full glass cockpit with a 3D synthetic vision MFD. "Skyvan" would work too: Rear seats come out for an even larger cargo space.
The Car approach is key here though, right down to its huge wraparound windshield and large, automobile-like cockpit doors on each side. All flight controls are electronically coupled. Target specs include cruise of 145 knots at 75% power, a 1,224-pound useful load and total fuel capacity of 132 gallons. Skycar was officially certified with EASA (European Aviation Safety Agency) and may be FAA-legal by the end of 2010.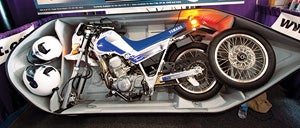 Motopod
Motopod
www.motorcyclepilot.com
Don't sacrifice ground-mobility fun on aviation adventures any longer: With the Motopod, you can have your wings...and wheels, too. The clever add-on is the brainstorm of aeronautical engineer David Shelton, who worked on roadable aircraft designs before concluding there must be an easier way. The Motopod is an aircraft belly container for a collapsible motorcycle that's easily configurable and roomy enough for golf clubs, bicycles, skis, camping gear or a portable bratwurst cooker, if you're so inclined.
"One in five pilots rides a motorcycle," Shelton says. "With a cordless drill, you can raise or lower the pod from the airplane in 30 seconds, just like a spare tire." The company also offers a Yamaha XT 225 cycle with modified, nonspill plumbing, smaller wheels, shorter suspension, and it's all street-legal. Shelton may offer an electric motorcycle with a 40-mile range soon.
The Motopod is currently in production for the RV-10 experimental plane, which makes tweaking and mods much easier than a certified design. "But our certification plan includes the Cessna 182 and the Cirrus next, and we'll go on from there." Shelton expects the STC for the Cirrus will be completed within 12-24 months.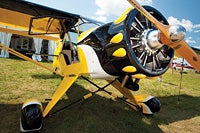 Kitfox Model 7
Kitfox Model 7
www.kitfoxaircraft.com
Anybody who's stuck even the tip of their nose into the homebuilt aircraft phenomenon over the last 25 years has heard of the Kitfox, one of the most popular homebuilts ever at nearly 5,000 kits sold. Several changes to its name and its manufacturers have brought the company back into the hands of John McBean. Fast forward to 2010 and McBean's latest spin on the venerable Kitfox: the model 7. And this time it's got a true radial under that cool round cowl, an Aussie-made Rotec that spins out 110 hp from its seven cylinders.
The germ for the design, says McBean, was purely aesthetic. "We wanted to offer something of the original Kitfox radial look to our customers." Oshkosh 2010 prize judges were paying attention: The Model 7 won the Bronze Lindy Award for kitbuilt aircraft.
The Rotec R2800 swings a wooden prop on the Kitfox and, like its time-honored ancestors, likes to gobble up the oil. "Don't choose a radial," says McBean, "unless you don't mind burning oil." The engine has been getting upward of 1,200 fpm climbs, and has graced several experimental designs here and abroad. The airplane may be offered as an S-LSA, depending on demand.
Page 3 of 4