Tuesday, July 20, 2010
20 New iPad Apps!
Turn your iPad into the ultimate cockpit resource
The iPad is slick, dazzling and infinitely upgradeable, with over 100,000 applications in Apple's App Store. It lets a pilot check e-mail, reserve a hotel room, scout for the $100 burger, and play a game of Scrabble. A fully loaded iPad 3G is just $829, an absurdly low price relative to other aviation costs.
We love the iPad in the cockpit, so long as pilots are aware of a few caveats. The iPad isn't FAA certified, and anecdotal testing of the GPS in the 3G model shows it to be a lot less accurate than even a Garmin 296 sans WAAS. That said, some of the applications really need the GPS. There's no sense in buying a moving-map application if your only position information is from back-tracing your IP address, which is how the WiFi model "finds" you.
There are no refunds from the App Store. Very few of the applications we looked at have free trial versions, so do some research before committing to the more expensive ones. We take a look at the top 20 apps a pilot should purchase to transform their iPad into the ultimate EFB.
Several promising applications were still in development at press time and may not be released even as you read this. As a pilot and iPad owner you should still keep an eye out for them.
AccuWeather.com
Pilots care about the weather for the next several TAFs. Passengers care about the weekend forecast. Occasionally, you'll need to break out a civilian weather tool like AccuWeather.com. It's worth the dollar to not have the ads, and the developers really understand the iPad user interface. $.99,
www.accuweather.com
AeroWeather
This app is perfect for student pilots because it's free! There aren't a lot of features, although when you're on your long, solo cross-country, it's great to be able to know the METAR at your next two airports—you did a full briefing before the flight, but it's nice to know the marine layer didn't roll in, right? Free,
www.aeroweather.ch
iPad Goes 'Round The World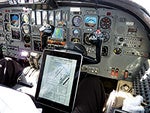 Adventurers joining Thierry Pouille and his Air Journey team on an around-the-world guided flight each have received an iPad that's updated daily on their 72-day, 25,000 nm trip. They're circumnavigating the globe comfortable in the knowledge that they have a complete weather briefing (including the latest data on the volcanic ash clouds in Europe), images of their destination airport, NOTAMs, radar images and the details for the flight itself. View their journey at www.airjourney.com/blog.
Page 1 of 4