Tuesday, July 20, 2010
20 New iPad Apps!
Turn your iPad into the ultimate cockpit resource
MyRadar Pro
This could not be simpler: different views of a weather map with the current (10 minutes, animated) radar of precipitation in the immediate area. For two dollars, it's hard to go wrong, but there's also a free version of the application (with advertising shown). $1.99,
www.flightwise.com
Sporty's E6B
While the answers a pilot needs should all be provided by any of the decent EFB applications mentioned here, a good pilot knows how to figure it all out with a simple device like an E6B. Sporty's app is well-designed and takes advantage of the large screen on the iPad. $4.99,
www.sportys.com
Sporty's Flight Review
This is perfect for a student pilot. It's Sporty's first effort to make their entire training library available for portable devices. There's a menu at the opening to select chapters and within those chapters are a handful of videos. Touching one fills the iPad's screen with Sporty's usual crisp and concise explanations of a topic. $29.99,
www.sportys.com
WingX
Hilton Software's WingX provides the pilot with a moving map, weather imagery, approach plates, all the necessary FAA documents and route planning. The moving map shows the terrain in bright red (above you) and yellow (close to your current altitude) at a glance, giving you an awareness of your CFIT situation.
All map features, such as runways, airways and airspace, can be toggled on/off. You can file your flight plans through DUATS, view TFRs along your route and pull up an E6B to calculate density altitude. It's the Swiss Army knife of aviation apps for the iPad. $99.99,
www.hiltonsoftware.com
X-Plane
We all have days when we'd like to go flying but something gets in the way. For no-go times, you can stay on the ground and fly the iPad. Austin Meyer and the gang at Laminar Research even have FAA-certified versions of the X-Plane simulator. With their app, you can fly the Cirrus Jet up through the marine layer and bring it around for a landing. $9.99,
www.x-plane.com
iCub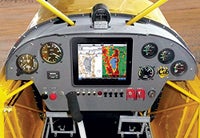 iCub
$99,000, www.icub.aero
SportairUSA saw the iPad not just as an opportunity to write an aviation application, but to fill a spot on the instrument panel of their new iCub. The Czech-built LSA comes equipped with a dock-mounted iPad, with iHud, ForeFlight and other aviation software preinstalled. At less than two pounds, the iPad isn't a significant dent in the weight-and-balance calculation. An iPod is mounted for the copilot.


Page 4 of 4