Tuesday, November 2, 2010
2010 Grab Bag
Our picks for the most impressive products of the year
L3 Trilogy
www.as.l-3com.com
In the category of "beautiful to look at," the Trilogy is clearly ahead of anybody. First, it's the first integrated standby system created specifically for general aviation. What the unit does is replace analog/mechanical standby instruments in glass cockpits by combining attitude, altitude, airspeed, slip/skid and optional heading data into a single—and visually compelling—4x3-inch digital display. We chose the Trilogy because of its solid-state design and Li-Ion battery power that will drive the unit for an hour after a power failure, along with its smooth and crisp display. If you want to see the unit in action, check out L3's well-designed website with full-motion simulation and enough specs to keep anybody happy. Trilogy makes all-glass in GA feasible and safe.
iFly 700 Portable GPS
www.ifly.adventurepilot.com
When Adventure Pilot introduced the iFly for $499, we took notice. Beyond the affordable price, this nifty unit packs a seven-inch touch screen (compared to most handheld four-inch screens) with a bundle of features usually available only in higher-priced units. The iFly 700 comes loaded with sectionals, IFR Low Enroute charts, airport diagrams, STAR, departure and approach plates. The price of $69/year gets you unlimited chart and database updates. The moving-map GPS moves over digitally enhanced FAA sectional charts all across the U.S., including Alaska and Hawaii. Rubber-band features, timers, different displays, fading buttons and lots of goodies from the high-priced end of town make this unit one of our favorites this year.
SMA SR305e Diesel Aviation Engine
www.smaengines.com
French company SMA has taken engine innovation to new levels. These folks impressed us at Sun 'n Fun this year, and again at Oshkosh. The SR305e brings diesel technology to general aviation in a way that Thielert couldn't. Aside from the supply advantages of burning diesel/Jet A fuel (available almost anywhere), the SR305e consumes 30% to 40% less fuel than avgas. A truly innovative and design-centric engine, the SR305e was developed from the ground up. Delivering 230 hp at sea level and offering a 10,000 rated altitude with a 20,000-foot maximum ceiling, the SMA engine is also smoother and quieter than avgas engines. We love it because it's "greener," more efficient and needs less maintenance than an equivalently powered gas engine. Certified for various flavors of Cessna 182 with more certifications in progress, the SR305e is in a league of its own.
SPOT GPS Messenger
www.findmespot.com
When SPOT introduced their first GPS personal tracker a few years ago, they became the innovator in this arena. Users embraced the little units because they were compact, simple to use and, most important, provided peace of mind when travelling in remote areas. With the introduction of the next-gen SPOT, the innovation trend continues. We fell in love with SPOT 2 because of its unique functions. "S.O.S." is for life-threatening emergencies that, when activated, alerts an international response center with your location. The "HELP" mode routes your position and a HELP message through a satellite network every five minutes and sends your contacts an SMS text message or e-mail with a link to Google Maps showing your location. "CHECK-IN/OK" gives your contacts your current position and a preprogrammed message. "CUSTOM MESSAGE" is just that, and will send a message to friends and family with your GPS location. Finally, "TRACK PROGRESS" lets you send and save your locations so your contacts can follow your track in real time. A yearly subscription is required.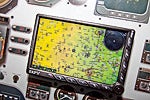 AvMap EKP V
www.avmapnavigation.com
This "more serious" EKP V navigator was introduced at Oshkosh this year and keeps its innovative kneeboard design. The big, seven-inch, 800x480 resolution screen is easy for older eyes to read, and can be easily switched from portrait to landscape mode. The new EKP V is thinner (.8 inches) and lighter (14 ounces). The big news is the V's panel docking station that enables it to connect to all sorts of panel devices (like autopilots, EFIS, XM weather, etc.), converting it into a portable multifunction display (PMFD). The EKP V also introduces a progressive joystick and smartwheel selector for menu and screen navigation. It also brings a more powerful WAAS-supporting GPS, Mx 51 Cortex A8 Mhz 800 processor, a speaker and micro SD card preloaded with software and maps. The EKP V also sports a new graphical interface. We like the new "Profiles" feature that allows storing different aircraft profiles for settings like terrain awareness and display items.
Cool iPad Apps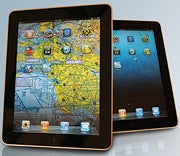 It's safe to say that the iPad has made a huge impact on aviation. Because it's a small device, has a gorgeously readable screen, turns on quickly and offers so many applications, the iPad seems a natural in the cockpit. Here are a few to get you started.
FlightPrep ChartBook-S
www.flightprep.com
Lots of pilots recognize FlightPrep flight-planning software. The company has been offering desktop and web-based flight-planning software to great success. Lately, the company has introduced a sophisticated electronic flight bag (EFB) we really like. The ChartBook-S is somewhat like an iPad, but built specifically for aviators. Based on the critically lauded ChartCase Professional software, this EFB has just about everything a pilot could want. Even a short list of its features is impressive, with moving-map GPS over georeferenced FAA charts, Highway-In-The-Sky Synthetic Vision, 3D terrain awareness, virtual backup instruments and user-defined checklists. We love that the ChartBook-S is a slate-style computer, and with an optional keyboard, it can be your laptop, EFB and GPS all in one. The EFB runs on Windows 7, and the ChartBook-S comes with and runs ChartCase Professional software.
Sporty's SP-400 Handheld Nav/Com
www.sportys.com
There has never been a huge selection of handheld nav/com radios. When Sporty's introduced their new SP-400, we got pretty excited. Right off the bat, one feature we love is the full ILS display (localizer plus glideslope). The SP-400 is the only handheld radio that offers this potentially bacon-saving feature. The SP-400's screen is huge and easy to read, and the ample keyboard is backlit for night operations. The unit allows one-handed operation with a one-touch emergency frequency button. We loved the nice details, like the side tone that lets you hear yourself if you plug in a headset, the built-in NOAA weather radio and the convenient AA batteries (the SP-400 runs on eight of them) that can be changed out all together (in a battery pack) in seconds. It also features VOR navigation with user-selectable OBS and a side tone.The SP-400 includes an alkaline battery pack, an antenna and wrist strap, all for $399.
Page 2 of 3