Tuesday, August 25, 2009
21st-Century Technology For Every Cockpit!
A panel-mount buyer's guide for all pilots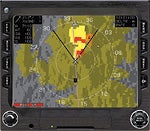 FlightLogic EFIS from Cobham PLC
Electronics International's MVP-50P
is an engine analyzer and systems monitor with a full color display. The unit can monitor parameters including volts, amps, fuel flow, rpm (two inputs), pressure (six inputs), temperature (17 inputs) and fuel level (four inputs). A bar-graph display shows EGT/CHT for each cylinder. The unit also offers graphical weight and balance, customizable checklists and data recording with the ability to download through a front-panel USB connector. Pricing starts at $4,995 for a four-cylinder model. Contact: Electronics International, (541) 318-6060,
www.buy-ei.com
.
While glass-panel PFDs and MFDs have updated the presentation of flight and navigation data, even on the most up-to-date airplanes, it's still common to use steam gauges for primary engine instruments. The
AuRACLE CRM2100
from
Flightline Systems
(acquired from Xerion) offers an alternative: full engine performance and status shown on a bright five-inch active-matrix LCD. Engine parameters monitored by the CRM2100 include manifold pressure, rpm, fuel flow, TIT, CHT, EGT, oil pressure and temperature, computed horsepower and percent power. The CRM2100 meets a wide range of TSO specifications and is STC'd through an approved model list for a wide range of makes and models. Prices range from $6,995 to $7,495. Contact: FlightLine Systems, (585) 924-4000,
www.ultra-fei.com
.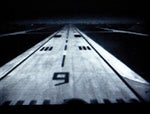 Forward Vision EVS-100
Forward Vision's EVS-100
is an infrared enhanced-vision system that can almost literally turn night into day, offering a view of terrain, runway obstructions and other hazards in total darkness. The system includes an infrared camera that can be mounted on the wing or fuselage of the aircraft, and either a panel-mount or portable display device. The EVS-100 is STC'd for some 160 different makes and models, including most Cessna singles, the Cirrus SR20 and SR22, and several helicopters. Pricing varies with installation. Contact: Forward Vision, (814) 757-5476,
www.forward-vision.net
.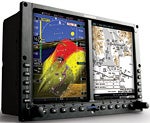 Garmin G600
Garmin
has upgraded its $29,995 G600 aftermarket glass panel with synthetic vision and an adaptor that provides an autopilot heading reference. These are in addition to the existing
G600
features, which include dual 6.5-inch displays providing PFD and MFD functionality in a single instrument bezel. Used in conjunction with a Garmin GNS 400- or 500-series GPS navigator, the G600 offers full glass-panel functionality, including attitude, heading, airspeed, altitude, rate of climb, simulated HSI/RMI and moving map.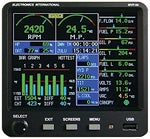 Electronics International MVP-50P
Options include electronic approach plates, traffic and in-flight weather displays. The G600 supports over 800 makes and models of Class 1 through 3 airplanes (maximum takeoff weight of up to 12,500 pounds) through an approved model list, and Garmin expects to add an option for TAWS-B compliant terrain and warning in the near future. Owners of singles and light twins in Class 1 and 2 (maximum takeoff weight of up to 6,000 pounds) have a less expensive option in the $15,995
G500
, which offers similar features for more than 600 aircraft. Synthetic vision and the autopilot heading reference are optional in the G500, and the TAWS-B option won't be offered in the lower-cost model. Contact: Garmin, (913) 397-8200,
www.garmin.com
.
Honeywell
's glass-panel PFD upgrade offering is the $16,995
Bendix/King KFD 840
, which replaces a standard "six-pack" of steam-gauge instruments with a single 8.4-inch bezel that has a full-width simulated horizon, integrated attitude and heading reference, vertical altitude and airspeed tapes, separate course and heading knobs, and menu-driven "hybrid keys." It's designed to interface with a wide range of existing avionics, but if you want to replace those too, then the $13,995
Bendix/King KNS 770
offers IFR-certified TSO WAAS/GPS navigation, a 5.7-inch MFD and 10-watt standard (16-watt optional) VHF NAV/COM with options including electronic charts, weather radar and embedded terrain. Contact: Honeywell, (877) 712-2386,
www.bendixking.com
.
Page 2 of 4