Tuesday, August 25, 2009
21st-Century Technology For Every Cockpit!
A panel-mount buyer's guide for all pilots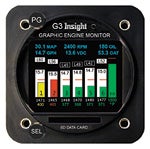 Insight G3
Color glass-panel displays may draw more attention, but 21st-century technology makes a difference in even single-function avionics, as illustrated by
Icom's IC-A210
. According to the company, it's the first panel-mount COM transceiver with an organic light-emitting diode (OLED) display, offering "many advantages in brightness, vividness, high contrast, wide viewing angle and response time compared to a conventional display." Other features include 760 VHF COM channels plus 65 receive-only NOAA weather channels, "flip-flop" tuning between active and standby frequencies, dual-channel monitoring, 10-channel memory and eight-watt transmitter power—all in a compact rack-mount case that's less than two inches high. The IC-A210 retails for under $1,500. Mobile and base-station versions are also available. Contact: Icom America, (800) 872-4266,
www.icomamerica.com
.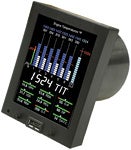 J.P. Instruments EDM-730
Insight Avionics
offers the next-generation
G3
GEM (graphic engine monitor) with a color-coded bar-graph display that shows engine condition at a glance with red/yellow/green traffic light–style coding. Beyond the color-coded display, the unit offers graphical leaning, built-in temperature-probe diagnostics, a prop-balance function (which, among other things "is a good detector of prop ice," according to the company), engine-vibration analysis, data logging on common SD data cards, and a turbulence display showing vertical and horizontal G-loads and periodic temperature vibration. Pricing starts at $3,000 for a four-cylinder unit, and upgrade pricing is available for owners of older GEM-series products. Contact: Insight Avionics, (905) 871-0733,
www.insightavionics.com
.
J.P. Instruments
'
EDM-730
and
EDM-830
upgrade the company's earlier EDM-700 and EDM-800 products with rectangular color displays that may be mounted in vertical or horizontal orientation and fit in a standard 3.12-inch instrument-panel hole. Both units offer bar-graph displays for EGT, CHT and TIT, along with rpm, manifold pressure and a wide range of other engine parameters. The EDM-830 adds a percent-power display. Both units offer a front-mount USB jack that simplifies connection to a

PS Engineering PMA8000B
notebook PC for downloading recorded performance data or upgrading system firmware. Pricing starts at $1,695 for a four-cylinder EDM-730 without fuel flow. Upgrade pricing is available for owners of EDM-700 and EDM-800 units (the new devices are pin-compatible). Contact: J.P. Instruments, (800) 345-4575,
www.jpinstruments.com
.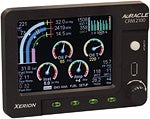 AuRacle CRM2100
While glass-panel PFDs offer pilots unparalleled ease of use and situational awareness, the backups used in case of PFD failure are typically conventional steam-gauge instruments, often in less than optimal locations.
L3 Avionics
offers an alternative in its new
Trilogy ESI-1000
electronic standby instrument, which basically puts the top half of a glass-panel PFD on a single 3.7-inch display that fits in a standard 3 ATI instrument cutout. The display provides a simulated horizon with airspeed, altitude, heading and barometric pressure, and is a completely solid-state device that, according to the company, "installs easily and outlasts conventional spinning mass and vacuum instruments." The ESI-1000 has received TSO authorization and is STC'd for "most Part 23 aircraft." Pricing starts at $15,000. Contact: L3 Avionics, (800) 253-9525,
www.l-3avionics.com
.
Flying with partial-panel instruments in a 20th-century steam-gauge panel is challenging at best and dangerous unless it's regularly practiced. FAA Advisory Circular 91-75 authorizes an electric attitude indicator as a replacement for old turn and bank or turn indicator instruments, and
Mid-Continent's 4300-series Lifesaver
gyro goes beyond the basic specification with a built-in battery backup that makes the instrument completely independent of outside power sources. Even in the worst-case scenario of a combined vacuum and electrical failure, you have a fully functioning attitude indicator to keep from losing control—with built-in lighting, so you won't need a flashlight to see it at night! Pricing starts at $4,770. Contact: Mid-Continent Instruments,
www.mcico.com
.
Page 3 of 4