Tuesday, December 25, 2012
ADS-B Buyers' Guide
Today's solutions for tomorrow's mandate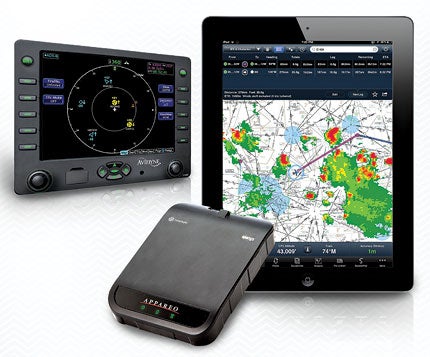 Avidyne EX600; Appareo and Sporty's Stratus
By 2020, aircraft operating in airspace currently requiring a transponder must be equipped with a certified Automatic Dependent Surveillance-Broadcast (ADS-B) Out transmitter, a key component of the FAA's NextGen Air Transportation System. The past year saw the introduction of a host of ADS-B solutions, and while only a few meet the 2020 requirements, they can provide real-time weather and/or traffic data in the cockpit now, and some solutions provide a path to future certification. Below are the basics of evaluating ADS-B products, along with a catalog of OEMs and their ADS-B solutions.
Evaluating ADS-B Solutions

"In" and "Out."
ADS-B has an "In" and "Out" component, and not all ADS-B products have both. ADS-B Out transmits an aircraft's location, its registration number, speed, track and altitude; aircraft must have a certified product with this Out capability by 2020. Weather and traffic data sent via ADS-B ground station network in the U.S. can be received by aircraft equipped with appropriate ADS-B In receiver.
978 UAT and 1090ES.
ADS-B has two operational frequencies: 978 and 1090 MHz. Weather and ATC traffic information is sent from ground stations and received in the aircraft via the 978 MHz Universal Access Transceiver (UAT) channel, only available in the U.S. The 1090 MHz Extended Squitter (ES) channel sends and receives only traffic information. An ADS-B solution may use the 978 or 1090 MHz channel, or both. In the U.S., come 2020, aircraft flying below 18,000 feet can use either a 978 or 1090 Out to meet the ADS-B requirement; aircraft flying at 18,000 feet and above (or operating outside the U.S.) will be required to use the 1090 Out.
Display devices.
Depending on the ADS-B solution chosen, data received by aircraft equipped with ADS-B In receiver(s) can be displayed on an installed multifunction display (MFD), compatible portable GPS, or iOS, Android or PC/Windows mobile device. Display devices are typically not included with the ADS-B solution. The connection between the hardware and the display may be wireless via Wi-Fi or Bluetooth, or hard-wired or cabled.
EFB apps.
Whether displayed on an MFD or mobile device, the ADS-B data is presented through an electronic flight bag (EFB) application, either developed by the hardware manufacturer (as with Garmin's Garmin Pilot app) or by a third party (such as ForeFlight and WingX). There's little cross-platform compatibility, and EFB app providers may be married to a single or small number of ADS-B hardware platforms. If you're attracted to a certain EFB app, choose the equipment that supports that app. If you're driven by hardware, make sure you're comfortable using the EFB apps
it supports.
Traffic.
Some ADS-B solutions provide traffic information. In portable products, this comes with several asterisks: Only aircraft equipped with a certified ADS-B Out matching the receiver's In capability (i.e., 978 or 1090 MHz) will be displayed, unless near a ground station that the certified ADS-B Out signal triggers, which sends a burst of ATC traffic data from a ground station that non-certified units can receive and display.
Price.
If you're waiting for prices to come down on certified or portable ADS-B products before buying, don't. Prices are unlikely to decline as they do with large screen TVs or other electronics that sell volumes in the millions. Some uncertified ADS-B products sold today promise a free upgrade when certification is completed, enabling users to take advantage of ADS-B today, and have a no-cost path (besides installation) to meeting the ADS-B mandate tomorrow.
Page 1 of 3