Tuesday, April 24, 2012
Aviation Apps
With the iPad so ideally suited to aviation, we examine today's top apps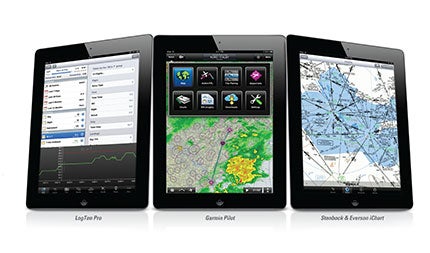 It's hard to believe that the iPad was introduced just in 2010. With an estimated 60 million iPads sold since Apple introduced it two years ago, no other device in history has influenced our world the way this clean little tablet computer has. And it has changed aviation in ways that surpass even the introduction of GPS to cockpits in the mid-1990s. In a recent announcement, United Airlines said they would begin rolling out iPads to all their pilots, realizing not only the advantages of broadband communication and some amazing aviation apps, but also saving money on fuel by not carrying reams of paper charts, approach plates and other paperwork. In aviation, the iPad is here to stay. The iPad has evolved quickly, and so have the apps that run on it. The apps that were hot in aviation yesterday may not be the best anymore. With such a fast- morphing computing landscape, we at Plane & Pilot wanted to examine 15 apps that all pilots should consider. Some are old friends that have been updated with new capabilities, and some are new to the iPad world.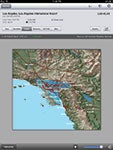 AeroWeather
www.aeroweather.ch
Yes, it's true that many aviation apps for the iPad have some kind of built-in weather information. The reason AeroWeather makes it to our list is because it has the clearest and most intuitive display format of all the dedicated weather apps. One glance allows you to look at weather from multiple stations at once. And the decoded TAFs are simply beautiful to look at. So many apps have great functionality but poor graphical presentation. With AeroWeather, much time was spent making the graphical interface just right, and it works flawlessly. Though the "Lite" version is free, the AeroWeather Pro ($3.99, one-time) adds webcam displays from nearby airports, NOTAMs, user-added comments for each station, email and print capability, Twitter and Facebook sharing, and an automatic "Nearby" feature that always shows weather in your area.
ASA FAR/AIM
www.asa2fly.com
Neither sexy nor flashy, ASA's FAR/AIM app for the iPad is the best $9.99 pilots will ever spend. How many times have you been sitting somewhere and had a question about an FAA reg or something to do with airspace or pilot communication? Instead of scouring through eight pages of useless Google hits, pilots can turn directly to the official source right from their iPad. The app includes searchable indexes to Titles 14 and 49 of the Code of Federal Regulations (14 and 49 CFR), and the Airman's Information Manual (AIM). As of February of this year, the app also contains the Pilot/Controller Glossary. Free updates are included; $9.99.
Control Vision Anywhere Map
www.anywheremap.com
Anywhere Map has been turning heads with their portable navigators for several years now, and I've been awaiting their entry into the iPad market. I'm happy to report the app ($79.99/year) has kept the features that made their portable GPS units so successful. Leading the charge is Control Vision's patented "Cones of Safety" that show which airports are within glide range based on the glide ratio of your aircraft. The app's "Personal Digital Copilot" keeps track of ground obstacles, warning when they pose a threat. It issues reminders for fuel-tank changes, time to descend and other routine tasks. What sets this app apart is its clean look and ease of use—especially its touch screen. Also, they don't charge for georeferenced charts.
Page 1 of 4