Tuesday, April 24, 2012
Aviation Apps
With the iPad so ideally suited to aviation, we examine today's top apps
Garmin Pilot
buy.garmin.com/shop/shop.do?pID=115856
Garmin has entirely rethought their popular Pilot MyCast iPad application, complete with a new name and a lot more utility. Though it will still feel familiar to MyCast users, Garmin's new "Pilot" app ($99.99/year for base app) has powerful new features, including preflight planning with fuel pricing, eye-catching layouts that better match Garmin's other systems, a touch-screen menu based on its higher-end navigators and better screen flow. In the air, the unit will display comprehensive weather information from U.S. and Canada, including NEXRAD radar, METARs, TAFs, AIRMETs, SIGMETs, PIREPs, visible and infrared clouds, NOTAMs, winds aloft, TFRs and lightning data by wirelessly connecting to XM WX Satellite Weather through the Baron Mobile Link paired with a satellite weather receiver (not included). Pilot lets users input their flight plan then view it on the moving map. Pilots can overlay weather and text-based "weather widgets" that show more data, and can pinch-to-zoom or pan across the entire route with NAV-TRACK. Pilots can also navigate with Garmin's patented Panel Page, a GPS-derived, graphical HSI directional display. The app interfaces with DTC DUAT and CSC DUATS so pilots can do block-to-block planning and filing. Garmin's Pilot is available in the iTunes app store with a free 30-day trial and works on iOS and Android-based devices.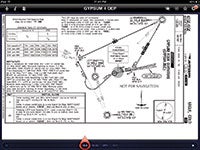 Jeppesen Mobile TC
www.jeppesen.com/jeppesen-mobile-tc
Jeppesen has a long history in aviation and continues that with iPad innovation to match their professional image. Jeppesen recently announced that they had completed rapid-decompression testing on the third-generation iPad as part of a program to persuade the FAA to certify the iPad as an approved EFB for use in professional cockpits. The FAA cited Jeppesen's newest Mobile TC (terminal charts) iPad app as a model for seeking certification, and allows the operator to use the iPad with the Mobile TC App as the sole reference for electronic charts, even during taxi, takeoff and landing. Jeppesen's Mobile TC chart viewer displays approach plate charts, terminal procedures, airway manual and airport diagrams, with more information coming on future releases. Jeppesen also announced enhancements to its Mobile Flite Deck app for the iPad (app is free; chart subscription varies by region). The app features new route-planning features including waypoint "rubber banding," and lock-screen capability to prevent data loss from accidental screen touches. Improved app symbols and faster performance were also announced.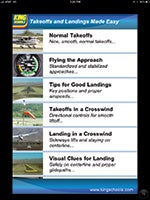 King Schools
www.kingschools.com
When it comes to world-renowned ground-school courses, John and Martha King are recognized for quality and results. We're pleased to see that King Schools is making their excellent courses available for the iPad. Users can purchase any online King course, then download an app called iSwifter from the iTunes store and view any King course (the download is required because King courses use Flash for animation, which isn't supported by native iOS on the iPad). Now, King Schools is offering iPad-ready courses directly from iTunes without requiring any additional download. Plus, they're being offered for only $29.99, even for the excellent "Pilot Communications" course.
Page 3 of 4