Tuesday, April 24, 2012
Aviation Apps
With the iPad so ideally suited to aviation, we examine today's top apps
Logbook Pro
www.nc-software.com
Maybe like me you have an iPad, but your main computing platform is Windows. While LogTen Pro runs on Apple devices, Logbook Pro works with the iPad and Windows PCs and laptops. Also, this iPad app (it also supports Android and other mobile devices) is free. The PC software has a one-time cost of $69.95 (no subscription). Another thing unique to Logbook Pro is its use of "the cloud" for syncing data from one device across others, and for backing up your data. This option eliminates having to sync-up your devices using a wireless network and uploading data. When you make an entry, it updates to the cloud, allowing multiple devices to sync at any time. It also backs up your logbook data to the cloud, allowing access from anywhere, even after a device crash or theft. Logbook Pro is also infinitely customizable, tracks certificates, ratings, medicals and BFRs, and can import airline schedules. You can share flights in Twitter and Facebook, and it's even Windows 7 compatible.
LogTen Pro
www.coradine.com/logten-pro
While many applications are useful and full of features, some also are fun to use; and LogTen Pro ($99.99) is one of them. Easily one of the electronic logbook's strongest features is its extreme reporting capability. With more than 80 built-in reports, I spent hours slicing and dicing my flight time into countless groups and sub-categories. Plus, the canned stuff is beautiful to look at, with graphs for duty limits so professional flight crews can see and examine past, present and future schedules for excessive hours. The many features and displays can be customized to any level, and the software gets to know the fields you use, hiding what you don't need. It makes LogTen easy to use and very useful. The app's newest feature is its digital signature box. This allows instructors to sign their students' logbook entries with their finger directly on the iPhone or iPad. LogTen Pro syncs to Macs, iPhones or iPads wirelessly, so pilots can keep track of their time on almost any device.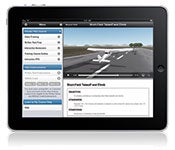 Sporty's "Learn To Fly"
www.sportys.com/PilotShop/product/17137
Sometimes an app comes around that's so useful you wonder why you didn't think of it first. Leave it to Sporty's to do that again with their Learn To Fly for the iPad ($249.99). The app includes everything from Sporty's famous Learn To Fly DVD and online courses, and leverages the iPad's gorgeous screen and portability to give student pilots real flexibility in learning. The app will run on your iPad and iPhone, and features 3D diagrams and award-winning video. In total, the app includes everything you need to become a private, sport or recreational pilot. Sporty's is so sure the course works that they'll refund your money in full if you don't pass all three tests after using the app.
Stenbock & Everson iChart
www.flightprep.com
A dedicated app for one task is sometimes better than an app that does many things. Such is the case with iChart from FlightPrep ($99.99/year chart subscription). Version 2.2 for the iPad is now available and has some great new features. iChart now includes GPS moving map on plates, charts and diagrams, along with seamless VFR and IFR charts for the lower 48 states and Alaska. It has easy to use "Favorites," "Nearest," and "Recent" functions, airport information, and a complete set of SIDs, STARs and Approach Procedures (IAPs).
WingX Pro7
www.hiltonsoftware.com
Along with ForeFlight and Garmin's Pilot, Hilton Software's WingX Pro7 ($99.95/year; Synthetic Vision is additional $99.95; georeferenced charts add $79.99/year) is part of aviation's holy iPad triumvirate. An app that seemingly does everything in the cockpit well, it deserves its place on any "best of" list for aviaion apps. Until a recent announcement from ForeFlight, WingX Pro7 was the only app that displayed free ADS-B weather (including NEXRAD) when paired with an external ADS-B receiver unit. WingX Pro7 also can connect wirelessly to the ZAON PCAS portable XRX traffic system to provide real-time display of traffic on its moving map. One feature that clearly differentiates WingX Pro7 is its Synthetic Vision. A five-ounce add-on unit called an AHRS-G mini (made by Levil Technology) adds pitch and bank info so the synthetic vision becomes a big attitude indicator. The resulting display is clear and crisp, and can be a lifesaver and a backup to good flight planning. The $750 AHRS mini connects to the iPad wirelessly. Of course, WingX Pro7 also includes goodies like VFR sectional and IFR charts, georeferenced approach charts, TFRs, fuel prices, dual moving maps and everything else a pilot could ever need.
Page 4 of 4