Tuesday, December 21, 2010
Aviation Handhelds
Buyer's guide to the latest high-tech handheld devices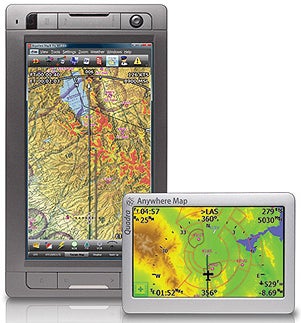 Anywhere Map Duo and Quadra
Not long ago, handheld devices for in-cockpit use broke down into neat categories: GPS moving-map units kept pilots from getting lost. Portable VHF radios kept us in touch when the alternator failed. Pilots who could afford to spend a few thousand dollars experimented with electronic flight bag (EFB) software that ran on notebook or tablet PCs and provided flight-planning and electronic-chart functions.
In the last couple of years, we've seen a radical change that blurs the lines between those categories. Today, many portable GPS navigators offer EFB functions, while smaller (and cheaper) tablet PC hardware is making full-function EFBs possible at much lower prices. And the feature set has expanded to include in-flight weather from XM and WSI satellite radio sources, and traffic avoidance using either a Mode S transponder with Traffic Information Service (TIS) or a portable collision-avoidance sensor like Zaon's amazing XRX portable collision-avoidance system (PCAS). Even the VHF radios are getting new features, with some receivers offering National Oceanographic and Atmospheric Agency (NOAA) weather, FM broadcast channels and even full ILS localizer and glide slope!

Advanced Data Research
Advanced Data Research FG-7150
www.adrsoft.com
This EFB offers an 8.9-inch daylight-visible, high-brightness, touch-screen display with unique night-flight dimming control. Options include a data transmitter that provides GPS and WSI weather data over a wireless link. A one-year warranty is standard. It can be used with most Microsoft Windows-compatible EFB software. Pricing starts at $6,995.

Adventure Pilot Fly 700
Adventure Pilot iFly 700
www.ifly.adventurepilot.com
The iFly 700 is a low-cost, portable GPS moving-map designed for in-cockpit use. It features a seven-inch touch screen that displays the aircraft position on georeferenced sectional, terminal and IFR en route charts. It also displays approach charts and airport diagrams, but without the aircraft position. An articulated suction-cup mount is included. The iFly 700 sells for $499, and requires a cigarette lighter or other connection (12 or 24 volts) for power. A battery pack that powers the unit for up to four hours is available for $72. VFR updates cost $69 per year; IFR coverage adds another $20 per year.

AirGator Navpad 10x
AirGator NAVPad
www.airgator.com
AirGator offers four different models in their NAVPad series of EFBs—customized tablet PCs with sunlight-readable, nonglare, touch-sensitive displays in sizes from 4.8 to 10.4 inches. All are available with AirGator's NAVAir EFB software, which provides moving map, aviation weather (with an optional XM satellite weather receiver) and georeferenced instrument approach plates. Pricing for complete bundles ranges from $1,950 to $5,995, depending on the model. The company also offers software for pilots who already own a tablet PC.
AvMap EKP V

AvMap EKP V
www.avmap.us
AvMap's new EKP V blurs not only the distinction between GPS and EFB but also between handheld and panel-mount devices. On its own, the EKP V is a handheld GPS with a seven-inch split-screen display that provides moving-map, electronic HSI, Jeppesen charts (including IFR en route and approach plates) and GPS-based backup instrument panel functions. Plug it into the optional docking station, and it can connect not only to the airplane's electrical system but also to XM satellite weather, traffic, audio, video and even to a panel-mount GPS and autopilot. Price wasn't announced at press time. AvMap also offers the $899 Geopilot II Plus, with a 5.6-inch color display, which can be used both in the air and for turn-by-turn navigation on the ground. A Jeppesen North America database is included with navaids, airports, low-altitude airways and terrain. Other features include flight planning, E6B functions, a built-in speaker, optional traffic display when used with a Zaon PCAS XRX, and optional aviation weather when used with a compatible XM satellite radio receiver (neither the PCAS or XM receiver is included).
Page 1 of 4