Tuesday, December 21, 2010
Aviation Handhelds
Buyer's guide to the latest high-tech handheld devices

Garmin GPSMAP 696
Control Vision Anywhere Map Quadra
www.anywheremap.com
Control Vision's $595 Anywhere Map Quadra is small enough to be held in the palm of your hand, but offers full EFB features including GPS moving map, optional XM weather, and even sectional charts and approach plates on its 4.3-inch touch-screen display. The $1,795 Anywhere Map Duo adds a seven-inch diagonal touch-screen display, 32 GB solid-state disk drive and compatibility with Zaon's PCAS XRX for traffic awareness. Both the Quadra and Duo require subscriptions to keep their charts and databases up to date—pricing depends on specific features selected by the user.

Garmin GPSMAP 496
Garmin GPSMAP 696
www.garmin.com
Garmin's GPSMAP 696 adds a seven-inch portrait-format display and electronic charting to the already rich feature set offered by the previous top-of-the-line GPSMAP 496. Both units provide a complete aviation database with terrain, navaids, obstacles, airports, instrument procedures, taxiway diagrams and AOPA's airport directory. The GPSMAP 696 adds an IFR map mode offering a display similar to standard en route charts, and includes approach plates. Like its smaller sibling, the GPSMAP 696 also includes a built-in XM satellite radio receiver for aviation weather, support for TIS traffic if you have a compatible Mode S transponder (not supplied with the unit), turn-by-turn ground navigation with a wide range of predefined points of interest, and GPS-based simulated instrument panel for emergency use that updates five times per second. The smaller Aera 500 series of touch-screen GPS units offer many of the same features in a 4.3-inch touch-screen form factor. Pricing ranges from $875 to $3,595.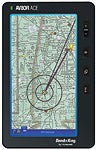 Bendix/King AV8OR ACE

Bendix/King AV8OR series
www.bendixking.com/AV8OR
This shirt-pocket-sized GPS navigator features a 4.3-inch LCD touch-screen display and includes an aviation database with terrain, navaids, obstacles, airspace, georeferenced airport diagrams and a GPS-based "portable glass panel" for emergency use. On the ground, an automotive database provides street-level maps, turn-by-turn navigation and a wide range of points of interest. It typically sells for $599 with North and South American database coverage. The larger AV80R Ace with a seven-inch display is aimed at instrument pilots, adding FAA IFR en route charts, approach plates and airport diagrams (with your current position). It sells for about $1,200 more than the smaller unit. Both models can display aviation weather data from an XM satellite radio receiver (not included with the unit), display images and video, and function as a hands-free kit for Bluetooth-compatible cellular telephones.

Spidertracks
Spidertracks Aviator S3
www.spidertracks.com
This portable flight-tracking device automatically sends position reports every minute or so, using the Iridium satellite communications network. In an emergency, the system can automatically send a web-based SOS message that doesn't depend on whether the unit survives a crash—unlike portable beacons that must be activated manually. It sells for $995 and requires a subscription (plans start at $10 per month).

Spot
SPOT Satellite GPS Messenger
www.findmespot.com
SPOT is a five-ounce, palm-sized, battery-operated device that sends position reports to a network of satellites in low Earth orbit. The latest model allows you to send a range of messages, including SOS/emergency and nonemergency requests for help, check-in/OK and custom messages to friends and coworkers, along with standard position reports. It costs $169 plus a $99-per-year data service subscription.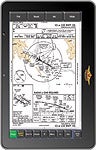 Stenbock & Everson Chartbooks
Stenbock & Everson ChartBook-S
www.flightprep.com
This Tablet PC has a 10-inch touch-screen display and EFB functions that include in-cockpit weather (when used with a compatible XM satellite radio receiver), GPS moving map, digital charting including all U.S. sectional, terminal area, WAC, low/high en route charts, approach plates and taxi diagrams, traffic (with an optional Zaon XRX receiver) and even GPS-based synthetic vision with Highway in the Sky (HITS). Pricing starts at $1,195. A subscription is required for chart revisions.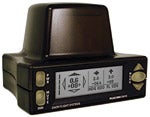 Zoan XRX
Zaon PCAS XRX
www.zaon.aero
Zaon's $1,495 portable collision-avoidance product has an integrated display that gives relative position for up to three transponder-identified targets, prioritized by risk of collision, and shows you which way to look. When used with a compatible EFB or GPS navigator such as the Garmin Aera or FlightPrep Chartbook, the XRX can provide MFD-like traffic displays at much lower expense than panel-mount products.
Page 2 of 4