Tuesday, December 21, 2010
Aviation Handhelds
Buyer's guide to the latest high-tech handheld devices

If the alternator fails in controlled airspace, there's no substitute for voice contact with air traffic control, and access to VORs and localizers can be a lifesaver. All three products in this section offer NAV and COM functions, including five-watt transmitter power (the maximum legally available) for voice communications.



Icom IC-A24
www.icomamerica.com
The IC-A24 offers VHF NAV/COM functions including a duplex feature that allows you to talk using the selected COM frequency while the unit displays a digital CDI showing deviation on the selected NAV channel. Other features include flip-flop recall buttons for the last 10 channels, 200-channel memory, a dedicated 121.5 emergency button, an external power jack, and optional rechargeable battery packs. The IC-A24 retails for under $325.



Sporty's SP-400
sportys.com
Sporty's SP-400 is the first portable VHF NAV/COM to offer full ILS (localizer and glideslope) functionality. It also offers 8.33 KHz frequency spacing, 20-channel memory, NOAA weather band compatibility, CDI display with OBS function, and external microphone, speaker and power jacks. Eight standard AA batteries provide up to 15.4 hours continuous operation.



Vertex Standard's VXA-300 Pilot III
www.vertexstandard.com
Vertex Standard's VXA-300 Pilot III offers VHF NAV/COM and FM weather radio receiver functions. It runs off a rechargeable battery pack (an overnight charger comes with the unit). Other features include a dedicated 121.5 MHz emergency channel button, 150-channel memory, scanner mode, CDI and optional public address function. The VXA-300 retails for under $270. The VXA-710 adds FM broadcast band reception and business radio band (BRS) functions for under $300.
For decades, chart cases with approach plates in loose-leaf binders have been standard equipment for instrument pilots. Today, electronic book viewers provide a lightweight digital alternative. It's now possible to store every U.S. approach plate (indeed, most world-wide approach plates) on a device that weighs about one pound.


PilotPlates
www.pilotplates.com
PilotPlates from Flight Level Publishing runs on a Sony PRS-505 eBook viewer, and offers electronic versions of FAA approach plates for the entire U.S. in eight regional downloads covering from three to 14 states each. Because of the small display, plates may be viewed smaller than life size, or you can zoom in on specific sections. A lifetime subscription to PilotPlates costs $249 (the eBook viewer isn't included—it typically costs under $400).

Reader Plates
www.readerplates.com
Reader Plates runs on a variety of eBook viewers including Sony's PRS-505, -900, -950 and Amazon's Kindle. A single download from Reader Plates contains FAA approach plates for the entire U.S. for $9.95 per month.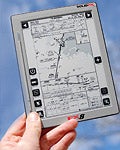 SolidFX FX8
www.solidfx.com
The FX8 offers digital versions of Jeppesen approach plates on a customized eBook viewer that sells for $1,595, plus a chart subscription for the area of your choice. A wide range of coverage options are available—48-state U.S. coverage costs $710 per year, while worldwide coverage costs a whopping $10,025. Single-issue "trip kit" coverage is available, as well. Special pricing is available for JeppView customers.
Page 4 of 4