Tuesday, September 22, 2009
Best Handheld Products!
Your guide to the newest portable gear
10 Pilot-Friendly Cell Phone Apps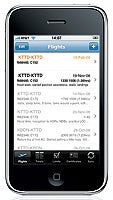 One major change this year is in the number of applications that provide graphical weather, flight planning/filing, emergency attitude indication and other functions on cellular telephones, including Apple's iPhone.

AeroWeather (www.aeroweather.ch) is a free international weather application for iPhones that offers METARs, TAFs and other information in English, German, French, Spanish and Italian.

AirWX (http://airwx.com) is a completely free service that provides weather information, including METARs, TAFs and NEXRAD images, on any cell phone with a web browser. A $6.95 iPhone version adds sectional charts.

Flight Control (www.firemint.com/flightcontrol) is a $0.99 (not a misprint!) iPhone game with an aviation theme, which the company describes this way: "Touch and drag your aircraft to their landing zones, and avoid midair collisions. It sounds easy, but as more and more planes arrive, you will need smart strategy, keen eyes and a smooth steady-as-she-goes touch!" Warning: This app is highly addictive.

FltPlan.com has created a completely free Airport/FBO Info Guide (http://wh83.fltplan.com/iPhoneInfo.htm) for iPhones that gives a wide range of airport data, updated weekly.

ForeFlight (www.foreflight.com) offers Airport/Facility Directory, checklist and sectional chart functions, as well as flight-plan filing on iPhones for $74.99.

Hangar B-17's SmartEFIS (www.hangarb17.com) exploits the iPhone's built-in accelerometers to demonstrate emergency attitude-indicator functionality for $9.95. Upgrade to a fully functional GPS-based backup PFD for $249.

Hilton WingX (www.hiltonsoftware.com) provides DUATS weather, weight and balance, FAA NACO-standard instrument approach procedures, route planning, E6B calculator functions and a raft of other features on iPhones, BlackBerrys and Windows Mobile devices.

Laminar Research is offering an entire series of iPhone versions of its popular X-Plane flight simulator (www.x-plane.com). Practice flying everything from a Cessna 172 to a space shuttle, each for $9.99.

LogTen Mobile (http://coradine.com) is a free app that turns an iPhone into an electronic logbook (pictured above) with advanced functions, including automatic tracking of currency and duty limits. It synchronizes wirelessly with the $99.95 LogTen Pro desktop application.

Pilot MyCast from Digital Cyclone (www.digitalcyclone.com) provides complete weather briefing information (including animated NEXRAD weather radar) and flight-plan filing on more than 100 phones (including BlackBerrys and Windows Mobile devices—it should also be available for Apple's iPhone by the time you read this) and all major U.S. cellular carriers. It's sold on a subscription basis for $9.95 per month.


Page 5 of 5