Monday, March 1, 2004
Buyer's Guide: The New Headsets
Whether it's passive or active, this year's models offer plenty of "oomph" for your ears
Over the last decade, headsets have become a mainstay for almost all aviators. A continuing flow of information on potentially damaging noise levels has led to greater headset use, and any doubt we may have had can be challenged by an idle conversation with an older pilot who has experienced hearing loss due to a lack of hearing protection. Cockpit noise not only can result in damage to the eardrum, but high ambient noise also can cause pilots to experience fatigue. Whatever the reason for wearing headsets, few people now argue against their merits.
Headsets still offer two different types of protection: passive, in which earcups fit over the ears to muffle sound; and active, a process by which a microchip in the headset helps create sound waves that cancel offending sound. Some headsets are a combination of both. While there are dozens of models in each category currently on the market, there are updates to previous headsets and new models released regularly. Here's an upgrades of the changes within the last year.

LightSPEED Aviation THIRTY 3G
It's LightSPEED's quietest headset, with comfy leather-covered foam ear seals.
Noise Reduction Type:
Active
Power Source:
AA batteries or aircraft
Weight:
16 oz. Warranty: 3 years
Suggested Retail Price:
$599
Contact:
LightSPEED Aviation, (800) 332-2421,
www.lightspeedaviation.com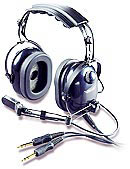 ASA HS-1
ASA's HS-1 has an adjustable headband that eliminates hotspots from an inconsistent fit. Earcups are made of high-density foam to increase passive noise attenuation, and each has a volume-control knob.
Noise Reduction Type:
Passive
Power Source:
None
Weight:
17.5 oz.
Warranty:
Lifetime
Suggested Retail Price:
$149.95
Contact:
ASA, (800) 272-2359,
www.asa2fly.com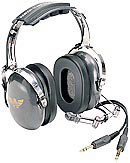 AVCOMM AC200P
Equipped with AVCOMM's exclusive patented PNR™ technology, the AC200P dramatically reduces annoying inner earcup vibrations and increases noise attenuation. Its M-60 noise-canceling microphone, with its "active filtering chip," screens out background noise during transmissions.
Noise Reduction Type:
Passive
Power Source:
None
Weight:
13.4 oz.
Warranty:
5 years
Suggested Retail Price:
$105.95
Contact:
AVCOMM, (800) 845-7541,
www.avcomm.com
Page 1 of 3