Tuesday, March 9, 2010
Buyer's Guide To Hangars, Doors And More
Time to bring your pride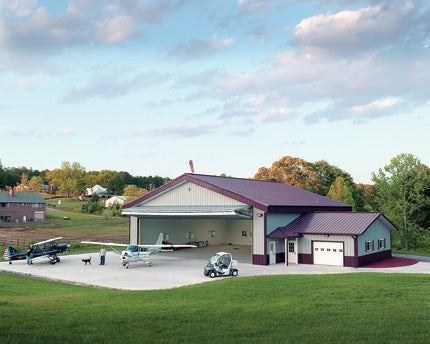 Morton Buildings
UV damage, bird proliferation, easy warm ups, cleanliness, weatherproof loading, privacy and security—these are on the long list of reasons why you might decide to store your airplane indoors and out of the weather. Perhaps you enjoy leisurely working on your aircraft, or maybe you need a suitable showroom, a place for guests to view your pride and joy. Whatever your reasons, congratulations—your aircraft, mechanic and passengers will be thankful for your decision to protect your valuable investment.
What follows is a list of some of our favorite building suppliers. Some offer a wide range of styles and services, while others have a more specialized focus. Contact several companies before you decide to go with one. You want to ensure that all of your specific needs are met at a price you can afford. Consider your present needs, and also allow for expanding to meet future needs (yours, and even those of the building's next owner).
Most important, virtually every builder and supplier emphasized the importance of early contact with site preparation folks and architects. Items as significant as the type and style of ramp and door—or even the number of electrical outlets you'll want—must all be considered. It's a safe bet that these companies have more experience at constructing hangars than you do, and they're happy to share—so work with them!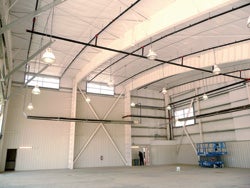 EagleSpan
HANGARS
It would be an understatement to say, "The buyer has all the choices." Nearly any hangar construction—from something as simple as an open shelter on dirt to a building as complex as the Taj Mahal—is available. Start with your dream list, and work your way back to reality—it's amazing how many of your fantasies can come true, provided that you take your time and consult with experts.
EagleSpan
Jerry Curtis, EagleSpan's president, wanted to showcase his latest and greatest hangar, a recent Louisiana installation: "Because we had the opportunity to value-engineer the building with the architect, instead of just bidding on it after it was fully designed, EagleSpan was able to 'kit' the building with all its complexities, including fire-rated walls, office features, tip-up hangar door and flat-panel finished walls. Our patented EagleBeam, with its rectangular shape and lighter weight, allowed for complex connections to be done with ease, and saved invaluable build time." The company welds all clips at the factory, and its prepainted primary and galvanized secondary structures reduce both construction time and cost uncertainty. Visit
www.eaglespan.com
.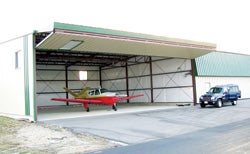 Erect-A-Tube
Erect-A-Tube
Approaching its 50th anniversary and celebrating more than 20,000 hangar units in operation in all 50 states, Erect-A-Tube has a long history in the aircraft hangar and hangar door business. The original developer of the electric bi-fold door system designs and fabricates GA facilities for both small single-engine aircraft and corporate business jets. Based in Harvard, Ill., Erect-A-Tube offers established expertise and combined hangar and door manufacturing resources to owners, builders and architects. Visit
www.erect-a-tube.com
.
Future Steel Buildings
This company offers strength and economy; uncomplicated, do-it-yourself construction; and easy future expansion. The familiar "Quonset hut" steel building is a fully modernized DIY construction, sporting made-to-spec size and finish. Future Steel supplies everything you'll need, including double sliding doors (other types are available) complete with hardware. When it's time to expand, additional arch panels bolt to the back of the building, and the trussless roof allows maximum indoor cubic efficiency. Visit
www.futuresteel.com
.
Page 1 of 3