Tuesday, March 9, 2010
Buyer's Guide To Hangars, Doors And More
Time to bring your pride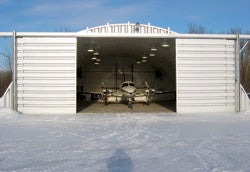 Future Steel Buildings
Metallic Building Company
Metallic constructs anything from small individual hangars and T-hangars to corporate and full FBO buildings. The company serves as a manufacturing partner in the planning stage and as a single-source supplier with on-site construction resources. Hangars come with 25-year color finish and 20-year weather-tightness warranties. Visit
www.metallic.com
.
Morton Buildings
Morton's hallmark is direct cooperation, whether with a site architect, an airport planning board or the end user. Meeting local snow and wind load requirements, the company's buildings can even incorporate living quarters. Morton works with manufacturers to get the door configurations you desire. It handles all aspects of production, so fit and workmanship are consistent, and costs are established in advance. The company's president, Jeff Neihouser, says, "Storing an airplane gives the owner and pilot confidence and peace of mind. It costs a little more to do it right, but saving a little money and not getting the ideal building can be significantly more expensive." Visit
www.mortonbuildings.com
.
R&M Steel Company
Quickly built, large, all-steel buildings are R&M Steel's specialty, and the Idaho firm can assemble tapered-beam buildings of virtually any height and width in post-supported sectional construction. R&M Steel produces each building to order, accommodating specific design needs and local codes. From simple shade ports to individual, group, maintenance or corporate hangars with attached office or warehousing duties, R&M Steel provides economical, adaptable designs. Visit
www.rmsteel.com
.
Sterling Steel Buildings
With its overhead-space-saving gambrel roof and pre-deposit job-site visits, Henderson, Colorado's Sterling Steel Buildings does things differently. Popular options include translucent panels (skylights); colored roof and side panels; no-weld, bolt-up assembly; lightweight, webbed trusses; and enamel-painted primary structures. The company stresses economy and is particularly proud of its comprehensive customer service. Visit
www.sterlingsteelbuildings.com
.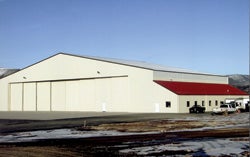 Metallic Building Company
Wick Buildings
Working with the architect, builder or municipality from day one is one of Wick's many specialties. Wick designs range from simple single units to complex multi-unit structures. The company also adds a good helping of aesthetics to the mix, accommodating the owner's preferences for floor space, overhead requirements, door configurations, color and facade treatment. With more than 66,000 structures completed, Wick can engineer a top-quality post-frame storage building, workshop or hangar for individuals as well as entire airport complexes. Visit
www.wickbuildings.com
.
Worldwide Steel Buildings
Catering to the do-it-yourselfer, Worldwide Steel Buildings is a factory-direct source for individual or T-hangars. The company offers 50-year structural and 40-year sheet-metal warranties. Its open-web truss design has been proven to withstand seven-foot ice loads, hurricanes and, recently, an F5 tornado. Worldwide favors bifold doors, and can place them in ends or sides; the company also offers self-supporting overhangs (as large as 14 feet) that enlarge covered space for rain, snow or sun protection. For the "DIY person," features include screw-and-bolt assembly with predrilled, jig-aligned holes. Visit
www.wsbnow.com
.
Wright Building Systems
Don't be scared by the scale of the Wright buildings you see used by such clients as Loretta Lynn, FedEx or Alamo, or at the Tampa, Denver and Kansas City airports. Small or large, utility or high-tech, Wright can help with full-service or on-site consulting—and everything in between. As consultants, the company will help you or your architect spec the whole project, down to the doors, insulation and hardware—and Wright can supply or coordinate all the materials. With more than 30 years of experience, Wright puts every customer at the top of its list, endeavoring to produce a product that will last for the long haul. Visit
www.wrightbuilding.com
.
Page 2 of 3