Tuesday, March 9, 2010
Buyer's Guide To Hangars, Doors And More
Time to bring your pride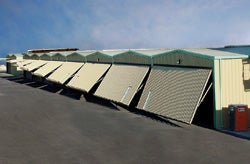 Hydroswing
DOORS
With the exception of the most basic shelters, all hangars have doors, and types range from simple to complex. Factors such as tracking, building structure, overhead requirements, operating systems (manual, electric or hydraulic), weather protection, security, aesthetics, stowage (overhead or side) and real-estate requirements will all figure into your choice. As with hangar buildings, getting the door manufacturer involved early on will save money and eliminate surprises later.
Hi-Fold Door Corporation
A long-standing irritation regarding bi-fold doors is the additional ceiling height required for the traditional design. This company offers a patented high-clearance solution. With all-welded construction in sizes up to 80x20 feet, the Hi-Fold Door is powered by a 1 hp to 2 hp electric motor or optional high-speed hydraulic operator for push-button convenience. The door can be locked and unlocked with a manually powered hand-crank lock or with optional automatic locking/unlocking. If overhead clearance isn't a problem (common in door replacement situations), a traditional bi-fold Hi-Fold also is available. Visit
www.hi-fold.com
.
Hydroswing
Marshal Parker purchased a Hydroswing door several years ago; soon after, he bought the company. His MD 500 is housed behind a Hydroswing door in England, and his Lear 55 is protected by one in the States. He counts the swing-up door's reduced overhead space and strong structure as its best features. "Why have a hole in the building, when with my door, you can have a wall?" he asks. Though the hydraulics-operated Hydroswing is a premium door, its incremental cost is low, since the building can be built shorter than with a bi-fold door, saving material, presenting less structure to the wind and reducing heat/AC requirements. These "green" aspects are particularly important to preserving general aviation, Parker says: "We need to be and look responsible to politicians and nonaviators. We can't allow naysayers to continue attacking GA as irrelevant." New products are in the works, including 40x150-foot metal doors, all-glass walls and doors for smaller applications. Visit
www.hydroswing.com
.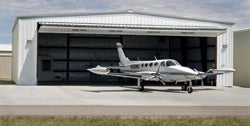 Schweiss Bi-Fold Doors
Schweiss Bi-Fold Doors
In addition to its famed bi-fold doors, which utilize an innovative multi-strap lifting mechanism, Schweiss offers one-piece hydraulic swing-out doors. The quiet bi-fold lift straps can be mounted from the top or bottom, and they open the door at a faster rate as the door gets closer to "full open." Straps, the company says, have more endurance than typical cables; they come with a seven-year warranty. The bi-fold door is available in aluminum and steel. The hydraulic swing-out door's one-piece surface offers excellent sealing, strength and insulation. Schweiss works with architects and designers to ensure that buildings are properly equipped for its doors. Visit
www.bifold.com
.
Aero-Lift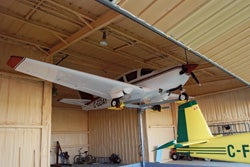 Say you've built your hangar, but then your family expands: How do you choose which airplane stays outside? Or perhaps you need to pull the car in, out of the elements. With the Aero-Lift, you don't need to make tough choices—just add some altitude under the wings, and usable floor space doubles. The Aero-Lift Harrington hoist sports a failsafe pull rotor brake that's automatically activated when the power button is released; it also has a traditional safety-chain backup. Since Aero-Lift's debut in 2001, there hasn't been a structural failure, and 400+ lifts have been installed. The load rating is 2,500 pounds, just 20% of the ultimate load, and the electric hoist is rated for 4,000 pounds. The one-person-operated hoist works in minutes. Utilize all of your hangar's space and make room for your other aircraft, your project or your car. Visit www.armaerospace.com.
Page 3 of 3