Tuesday, December 16, 2008
Choosing Your Handheld
What to consider before you purchase a GPS, EFB or NAV/COM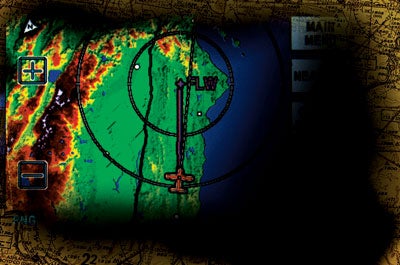 Pilots today are increasingly dependent on electronic navigation and communication equipment: GPS for navigation, satellite radio for weather avoidance and VHF for voice communications (since September 11, no pilot can seriously think about flying in controlled airspace without one). If you're lucky enough to fly a late-model glass-panel airplane, you've got all that (and more) at your fingertips…until your alternator quits! If you fly an older airplane, you probably depend on steam-gauge instrumentation that limits situational awareness, and you're just as dependant on your alternator for key navigation and communications equipment as the glass-panel guys.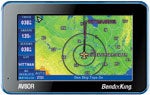 The solution, for many pilots, is to reach into their flight bag and pull out a handheld backup device. Many pilots carry both a handheld GPS and a handheld VHF radio, which may offer NAV and COM features. Many pilots of older airplanes keep the GPS on a yoke mount, where it functions like a smaller version of the multi-function display (MFD) that's standard on glass panels. Some pilots prefer a more general-purpose device called an electronic flight bag (EFB) that offers electronic charting, in-flight weather, traffic and, in a few cases, even 3-D synthetic vision.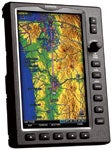 Garmin's GPSMAP 696
The fundamental decision when buying a device for navigation and weather avoidance is whether you want a dedicated GPS navigator or a more general-purpose device that can also be used on the ground. Lately, the line between those categories has begun to blur as purpose-built aviation devices have gained more and more features, while general-purpose devices have become easier to configure and use. Still, the differences are worth taking into consideration when making a purchase decision.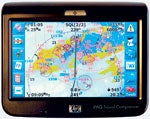 Control Vision's Anywhere Map Travel Companion
A dedicated GPS navigator with an aviation database is designed and built to be used in the cockpit. It has either a reflective display that can be used with an external light source, or a backlight that's bright enough for you to see the display even in direct sunlight. It probably also offers options to dim the display for use at night. Dedicated buttons for common functions may include an emergency mode, enabling you to locate the nearest airport. Mounting hardware, for attaching the device to the aircraft yoke or glare shield, is readily available and may be included in the box.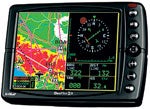 AvMap's GeoPilot II Plus
The downside to a dedicated navigator is that it isn't much use outside the airplane (though a few are beginning to offer street-level databases and turn-by-turn navigation for use in a car). That's where the EFB has an advantage. EFBs are based on general-purpose hardware, which may be a small PDA or a larger, Microsoft Windows–based Tablet PC. In either case, when you're on the ground, you just close the aviation software and use the device for other purposes. PDAs have built-in software for appointments, contacts and note-taking, while Tablet PCs can run virtually any program that you'd normally run on a desktop PC. This can be a real boon to pilots who fly on business: Instead of leaving the GPS navigator in the airplane and taking a separate notebook computer, just bring the EFB with you.
EFBs also offer a more flexible choice of aviation software. You can run whatever flight-planning software you choose, and switch from one program to another if you find a new one that offers better features. You can get electronic charting software that completely replaces the usual case full of paper charts; there are, however, a couple of catches.
Page 1 of 4