Tuesday, September 30, 2008
Flight Management Systems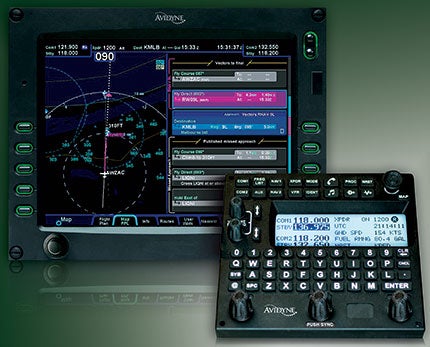 Airline and bizjet pilots have been using flight management system (FMS) technology for almost 30 years, but it's new to general aviation pilots. From the beginning, the FMS has appeared to the pilot as a control unit with at least two features: a keypad to enter waypoints and an alphanumeric display to show navigation and performance data. That's still true for most FMS displays, though some now provide graphical features, and not all GA installations include a keypad. The FMS can also drive navigation instruments (or the PFD on a glass panel).

Basic FMS features can be helpful to any pilot—particularly those of us who fly IFR. FMS equipment usually (but not always) is integrated with the autopilot, flight director (if available) and, on some jets, autothrottle system. This enables single-button Take Off/ Go-Around (TOGA) functionality. Press the TOGA button on the throttle quadrant, and the autopilot is disconnected, the flight director commands a climb attitude (about 10 degrees nose-up in GA installations; on heavy jets, this may depend on the aircraft weight), and the autothrottles will be set for takeoff power (in most GA airplanes, you still need to throttle up manually). The pilot can concentrate on clearing any obstacles, cleaning up flaps and gear, and stabilizing the plane in climb. Then the autopilot can be reengaged to complete the missed-approach procedure and either make another attempt to land or head for an alternate airport. Until recently, this kind of feature was available only in cabin-class airplanes. What follows is a rundown of avionics with FMS capabilities produced by major manufacturers for GA airplanes.

Avidyne
The Entegra FMS900w from Avidyne looks like a traditional FMS, with a control unit that features its own dedicated five-line alphanumeric display and a complete keyboard. It's designed for use with the Entegra glass panel, where it replaces the typical dual Garmin GNS 430 radio stack and provides full GPS/WAAS and NAV/COM features. The keyboard simplifies flight-plan entry, and complex flight plans can be entered much more quickly using the FMS900w keyboard than the knob and enter-key commonly used on competing GA systems. A context-sensitive menu structure is used for all navigation functions. It can store up to 100 routes, each with up to 128 legs. Automatic cross-fill is supported in dual FMS installations. The FMS900w also supports automatic NAV tuning. Advanced features include "FMS Vectors," which automatically compute and display a curved-intercept flight path, and the ability to issue wind-corrected roll-steering commands to the aircraft autopilot. The FMS900w is capable of supporting required navigation performance (RNP) radius-to-fix legs, as used by airlines and business aircraft. List Price: TBA. Contact: Avidyne, (800) 284-3963, www.avidyne.com.
Page 1 of 3