Tuesday, September 30, 2008
Flight Management Systems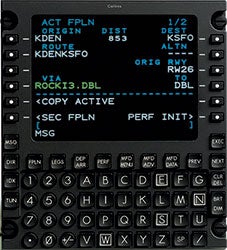 Rockwell Collins
Rockwell Collins has been producing FMS hardware for almost as long as Honeywell. The company's current "low-end" product is the FMS-3000, which is certified for use in the Beech King Air B200 and 350, Beech Premier, and Cessna CJ1, CJ2, CJ3 and Citation Encore. Typical systems from Rockwell Collins include a single FMC-3000 flight-control computer connected to a GPS-4000S WAAS sensor and two CDU-3000 control units, which have a 14-line alphanumeric display and a full keyboard. Designed to integrate with Pro Line 21 panel instruments, the FMS-3000 supports GPS, VOR/DME, INS and ILS/LOC sensors. It provides multiple-waypoint VNAV, time and fuel planning based on aircraft performance data, and scratchpad data entry. List Price: Installation-specific. Contact: Rockwell Collins, (319) 295-1000, www.rockwellcollins.com.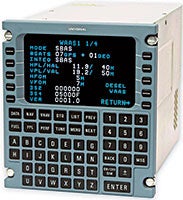 Universal Avionics
The UNS-1 FMS was introduced by Universal Avionics back in 1982; since then, the company has continually updated the product. The latest versions offer a 12-channel WAAS-compatible GPS receiver, per-pilot and per-company stored routes, full VNAV, fuel management and automatic entry to holding patterns. Optional features include frequency management and data-link support. A variety of models are available in both all-in-one and remote-computer configurations, including a low-profile version with a four-inch, flat-panel LCD screen. All UNS-1 control units include a graphic display and an alphanumeric keyboard. List Price: Varies with selected options. Contact: Universal Avionics, (800) 321-5253, www.uasc.com.   
       
HISTORY OF FMS
The first FMS was developed by Sperry Flight Systems (now part of Honeywell) from the VOR/DME-based random navigation (RNAV) systems that appeared in the mid-1970s. RNAVs could store multiple VOR/DME pairs and compute aircraft position. The FAA developed approach procedures to navigate over such waypoints, and RNAV was quickly adopted by airlines for terminal guidance. Long-haul routes required other navigation methods. Transitioning from long-range navigation to terminal navigation was a problem, complicated by the fact that in heavy aircraft, best airspeeds for climb and descent depend on an aircraft's weight.

A solution appeared with Sperry's first FMS, designed for the Boeing 757 and 767. It used microprocessor technology to compute aircraft position from RNAV, inertial navigation system (INS) and other sensors; it also provided a rudimentary form of VNAV for efficient climbs and descents, taking into account aircraft weight and fuel consumption.

Over time, additional features were added, including automatic tuning of navigation radios, graphical moving-map displays, fuel management, system control and even in-flight data-link services.
Page 3 of 3