Tuesday, February 10, 2009
Garmin 696: A Giant Leap Ahead
In a remarkable paradigm shift from past portable GPS devices, Garmin produces a larger knee-pad version with new talents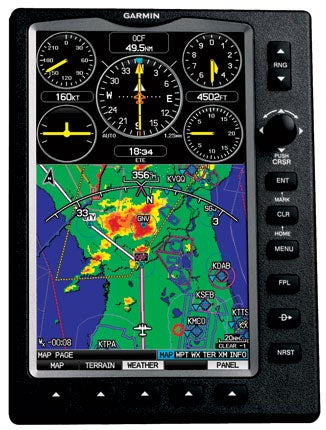 If you hadn't noticed, the Garmin 696 is bigger. Anyone who has seen the advertising for Garmin's new world-beater 696 GPS navigation unit knows it's a definite departure from Garmin's traditional philosophy of thinking small. Garmin entered the market back in 1989 by producing a small, high-quality, portable GPS unit; but the new system's most obvious talent is simply its size. (In fact, the 696 isn't the first larger-format Garmin portable GPS. The company did build a semi-notepad style GPS for a few years, the shortlived iQue.)
The 696 is a considerably larger and heavier system, and the screen measures seven inches diagonally. Diagonal measure is mostly a marketing gimmick borrowed from flat-screen TVs; a seven-inch diagonal dimension devolves to six inches tall by three inches wide. For those who care about such things, the pixel count is 480 wide by 800 tall, 384,000 total.
One obvious benefit of a larger screen is that you can display more information without producing clutter. The 696's screen is spacious enough to allow display of a full approach plate and provide finer detail on the map. The new Garmin also lets you display the IFR low- and high-altitude airways. It's about as close as you can come to a portable MFD.
Power on the 696 is provided by a nickel-metal hydride battery that's allegedly capable of providing about three hours of operation (includes power for XM and full backlighting). I never found out, as I had the system connected to aircraft power at all times. The display is the brightest of any portable I've seen, with no tendency to wash out in bright sunlight, a problem on earlier models.
Indeed, if there was anything to criticize on Garmin's previous portable GPS devices (and there wasn't much), screen size may have been a minor weak point. The earlier XX6 models used variations of a 3x2.5-inch format. Personally, I've always felt the 396 and 496 are nearly ideal systems for portable navigation, but there's no question the 696's size is its primary advantage. The system weighs about 2.25 pounds, nearly double the heft of Garmin's next heaviest portable (the old 195), so it's far more likely to be mounted on a yoke rather than handheld. Garmin also uses the multi-articulating RAM mount.
My demo unit from Garmin arrived two days before I was scheduled to leave on a delivery flight of a Marchetti SF.260 from Santa Monica, Calif., to Coventry, England. I expected to use the system on the trip (along with my trusty 396), but that turned out to be a challenge past Canada, as the 696 had only the Americas database installed. The other XX6 Garmins come standard with essentially all the airports and VORs in the world in memory, so you can navigate virtually anywhere on Earth with any of those systems, right out of the box. True, you won't have intersections or approaches available, but at least you can fly en route navigation overseas. It's probably a minor point for those who don't cross oceans on a regular basis, but the 696 won't travel internationally unless you're willing to input all airports as user waypoints.
Page 1 of 3