Wednesday, September 9, 2009
Gear Up With BrightLine Bags
Stay organized in and out of the cockpit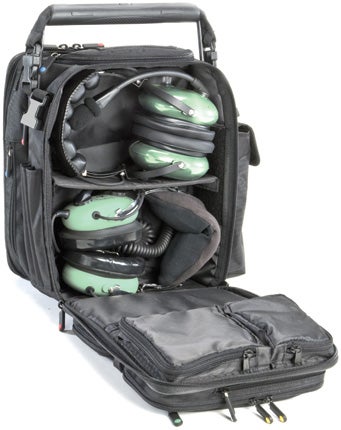 If you took one look at my airport car, you'd probably conclude that I'm not the most organized person in the world. While I'm much better at managing my airplanes, it has always been a time-consuming task to keep everything in its proper place, especially when I'm switching my plane from fun-flying mode to traveling or sightseeing mode. But there might be hope for me now! The Pilot Flight Bag from BrightLine Bags is an ingenious and useful collection of pockets, compartments and specialized holders that makes it easy to manage anything you use regularly in your flying endeavors.
The old saying that "necessity is the mother of invention" applies to the creation of BrightLine Bags' flight bag. As a student pilot and then an instructor, CEO Ross Bishop couldn't find the perfect flight bag to keep himself organized at the airport. He knew there were a ton of options with all the bags on the market, but it seemed to him that none worked well. Cords got tangled, charts didn't fit well, goggles got scratched and the bags themselves became fuel-stained. Worst of all, everything got jumbled up in the bottom of the bag. With his background in CAD systems, Bishop started 3-D modeling all the items that pilots need and access throughout a flight. He then cleverly created an initial version of the bag and improved the design until it became small and efficient, with lots of specialized pockets. After that, he shared the bag with his pilot friends and incorporated their way of using it into an innovative and convenient piece of flight gear.
The result is a well-thought-out system that helps you manage a long list of stuff: two headsets, fuel tester, navigation charts, kneeboard, flashlights, checklists, sunglasses, logbook, extra batteries, flight computer, extra charts, handheld radio, Leatherman-type multitool, pens, markers, my Spot tracker, plus a place for small items like coins, business cards and other miscellaneous stuff. Personal items, such as a cell phone, wallet, car keys and pocket stuff, have their own places. The zippers are all color-coded, and the frequently used compartments are in the front and on the top of the bag. There's a separate compartment for carrying messy items like the fuel strainer/tester. It was nice to see that the item I access most in the air, navigation charts, has an external pocket that I can easily get to.
Page 1 of 2