Tuesday, August 11, 2009
Headset Guide: Technology Still Rules
New developments in sound technology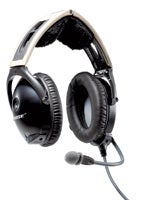 The Bose X headset offers acoustic noise-cancelling technology.
A development from the ultralight and paraglider industry is the helmet headset. British company, Lynx Avionics offers a unique integrated helmet intercom system with individual components that fit together and are designed for high-noise environments, such as open cockpits. The headset component slides directly into either a hard "fighter pilot"–style helmet or a soft leather helmet and can be worn independently. Other companies in this arena include Sport-Link and Icaro.
Most manufacturers now offer cell phone and MP3 player connections. Wireless, Bluetooth and multichannel capability have emerged as well, allowing pilots to connect wireless smartphones, music players and just about any other device, all at once, to the headset. Smart or "adaptive" ANR has now been introduced that gives ANR headsets more intelligence in countering harmful noises, thus providing broader sound attenuation capability.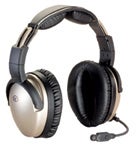 Lightspeed Zulu's magnesium ear cups provide a rigid barrier for attenuation.

Choosing The Right Headset
Headset technology has developed to the point where there's no "one model is best" for all pilots, no matter the price. Close attention to manufacturers' noise attenuation charts is warranted, as is applying those figures to individual cockpit environments. Trying several headsets seems to be the best way to evaluate them, with aviation trade shows being prime ground for experiencing the nuances of different models.
Finally, comfort is a huge factor and is always a personal choice. Experts suggest buyers wear a headset for as long as possible, since pressure on the scalp and ears is only noticeable after several minutes. Just about anything feels okay for a 30- or 40-second trial. Always consider upgrading the ear cup seals to the gel variety and consider getting the best microphone you can—especially for noisier or open cockpits. And of course, with headsets, you get what you pay for. Always consider how long you'll be wearing a headset because nothing is worse than sitting in the pilot's seat with a bad headset distracting you from the task at hand: flying the airplane.
BluLink: Look Ma, No Wires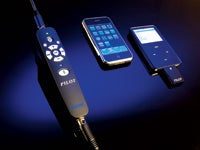 Pilot USA introduces wireless, multichannel music and cell phone control for the cockpit

Pilot Communications USA is a small company that quietly goes about the business of introducing innovative features to aviation headsets. In 2001, Pilot USA introduced the first aviation headset with a cell phone input. Now, the company has introduced a unique little adapter called the BluLink www.pilotblulink.com).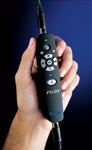 BluLink is a palm-sized device that allows pilots to connect multiple devices to their headsets without any wires. While the ability to connect cell phones and MP3 players has been around for a few years, the ability to connect multiple devices at once using Bluetooth (wireless) technology is an innovative enhancement.

BluLink—along with your existing aviation headset—works like stereo headphones, allowing you to stream digital music from your iPod or other MP3 player. At the same time, you can have any smartphone with Bluetooth capability connected to your headset wirelessly. The BluLink adapter features controls that allow you to control sound and music selection, as well as the features of your cell phone, all remotely.

Players and phones without Bluetooth can still be connected through a "dongle"—a small device that's essentially an external Bluetooth transmitter and plugs into the phone and/or MP3 player. Finally, no wires to clutter the cockpit and one simple device to control everything—even answering your cell phone. Learn more at www.pilot-usa.com.
Page 3 of 3