Tuesday, December 17, 2013
Headsets Buyer's Guide 2014: Smaller, Lighter And More Affordable
Pilots demand better comfort and affordability in headsets as the market expands further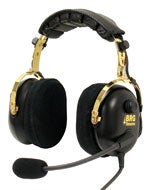 BRG
If you experience discomfort with over-the-ear headsets because of clamping, you should give serious consideration to in-ear headsets. These typically weigh in at around an ounce and are so comfortable you'll forget you're wearing them. They seal in the ear and provide audiophile sound quality. My favorite headset for closed cockpits is an in-ear model I own. I love that the sound goes directly into my ear, allowing me to turn the whole intercom system down. And the comfort is unbeatable. Both Quiet Technologies and Clarity Aloft are companies that offer in-ear headsets. Other companies like Lightspeed were offering in-ear models, but no longer do. In-ear headsets are a revelation for many pilots and are worth a look.
Trends
There's a lot going on in the aviation headset world. First off, pilots have gone crazy for the GoPro series of POV (point- of-view) cameras. That relates to headsets, because pilots have thus far been unable to capture their cockpit audio without a lot of extra gear. Pilot Communications USA has come to the rescue with a line of recording adapters that allow pilots to send an audio feed directly from their headset to their camera, smartphone, or digital sound recorder, capturing ATC communication and intercom conversation. Pilot USA has been so successful with these and other adapters that they have become the world's largest manufacturer of headset adapters. "We can connect just about anything to anything," says company Vice President, Abram Akradi.
Along the same lines, Bluetooth wireless technology has overtaken the communications world, and Pilot Communications USA has developed their "BluLink" unit to adapt it to aviation. BluLink is a portable unit that allows integration of Bluetooth music and cell phone communication to any passive or ANR headset. It allows wireless communication with your Bluetooth-enabled cell phone or music player.
Small and light is the trend in headsets, and David Clark debuted their "Pro-X" ANR unit this year. Combining retro design with excellent performance, the Pro-X sits on the ear instead of around it. Not quite an in-ear headset, but not a traditional "clamping" headset, the Pro-X is bridging the gap between those two headset types and is one of the most comfortable headsets around.
Page 3 of 4