Tuesday, October 5, 2010
Hearing Loss: Could It Happen to You?
The right headset and a little knowledge can save your hearing
Headset Highlights
New models, thoughtful enhancements and greater comfort are the hallmarks of this year's newest headset products.
We take the era we live in for granted. When it comes to headsets, the industry has made advances in recent years that surpass the developments of the previous 100 years combined. For example, ANR was only brought to GA in the mid-1980s. Bluetooth wireless technology didn't come into its own until the last few years. Advanced materials like composites have only been popular in the recent decade, and the tiny, efficient speaker drivers that make your iPod sound great and allow your home sound system to fit into a shoebox have only been around a short time.
With aviation headsets, we fully expect that whatever model we bought last year will probably be surpassed by a new model this year, with more and better features. While veteran pilots trudged along with their "Realistic-" brand microphone for three decades, we expect to upgrade our headsets every few years. It's an exciting time in aviation, and the most recent announcements in the headset world are worth taking a look at. What follows is the latest and greatest in aviation headsets.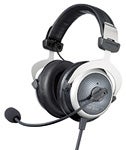 BeyerDynamic HS600 DANR
BeyerDynamic HS600 DANR
Long a force in the music and broadcast world, German company Beyerdynamic continues to offer their outstanding "Digital Adaptive" Noise Reduction (DANR) system in aviation headsets. Their innovative approach tailors the active noise reduction to specific frequencies based on the frequencies sensed by the ear-cup sensor. The result is excellent attenuation that's adaptable to different environments. Add connections to MP3 players and cell phones, automatic shut-off, light weight (11.4 ounces) and the generous Beyerdynamic five-year warranty, and you have a professional-level headset.
Contact:
www.beyerdynamic.com
.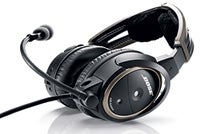 Bose A20
Bose A20
Bose has been a leader in ANR aviation headsets for some time. With their new A20 headset, Bose raises the bar once again. The A20 features microphones both inside and outside the ear cup to sense frequencies for attenuation. Bose redesigned the ear cups with more room to prevent hotspots, and they implemented new materials in the ear seals for comfort.
The A20 boasts less clamping as a result of a better torsion spring on the magnesium headband. Bose's TriPort audio and their active sound equalization give great sound for a lightweight headset. The A20's auxiliary audio input connects to a variety of devices, including GPS units.
Contact:
www.bose.com
.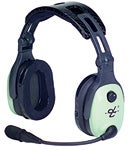 David Clark X11
David Clark X11
The newest X11 features new "comfort gel" ear seals with a unique undercut for fit. The nine-volt battery-powered headset will go 25 hours on the battery and features a pilot-selectable automatic shutoff.
The X11 is stereo compatible for use with intercom entertainment systems. At 18 ounces, it's not the lightest of the bunch, but it carries the David Clark name and is FAA TSO-approved.
Contact:
www.davidclark.com
.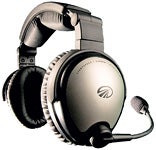 Lightspeed Sierra
Lightspeed Sierra
Lightspeed's Sierra fits into the "cool-looking and great-performing" category. The headset's unique bronze look makes it stand out from the fray. It's a bit heavier than other headsets, weighing in at 16 ounces, but the plastic housing is solid and well-designed. The Sierra is an ANR model with typical attenuation specifications.
The headset's best features include Bluetooth connectivity to eliminate cables in the cockpit, an integrated music control input, auto music mute to decrease music volume by 80% during radio calls and Lightspeed's outstanding, innovative design, comfort and fit.
Contact:
www.lightspeedaviation.com
.
Page 4 of 6